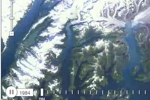 spot cool stuff TECH
Almost everyone reading this has perused Google's collection of satellite images, either on Google Maps or with Google Earth. Perhaps you've wanted to get a bird's eye view of your own home or visually traveled to some far away political hotspot. But one place you haven't easily been able to travel via satellite image — back in time.
At least, that was the case until recently. Last Thursday, to be specific. That's when Google — together with TIME Magazine, NASA and the U.S. Geological Survey — launched Timelapse, a zoomable, interactive web tool that lets you easily compare satellite images taken between 1984 and 2012 of nearly any location.
---