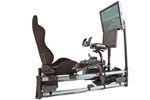 spot cool stuff TECH
Spot Cool Stuff, not being so enthralled with the intricacies of flying a commercial jetliner, would mostly use to the Home Cockpit Flight Simulator to recreate scenes from the Airplane! movie. What's your vector, Victor?
But if you are an aspiring pilot—and have access to an extra US$7,000—this product from Hammacher Schlemmer is as close as you can come to flying a real airplane without leaving your house.
---