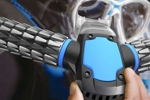 spot cool stuff TECH
Being able to breath underwater, à la Aquaman, sounds like a made-up superpower. But it needn't remain the stuff of pure science fiction. After all, fish manage to breath underwater. And some, like the lungfish, are adept at breathing air too. Theoretically, for a human to breath underwater all that's required would be some sort of gill-like system.
Enter Jeabyun Yeon, a student at the Samsung Art And Design Institute, who thinks he's come up with exactly that. Dubbed the Triton Oxygen Respirator, Yeon's design features miniature artificial gills extending out from a mouthpiece.
---