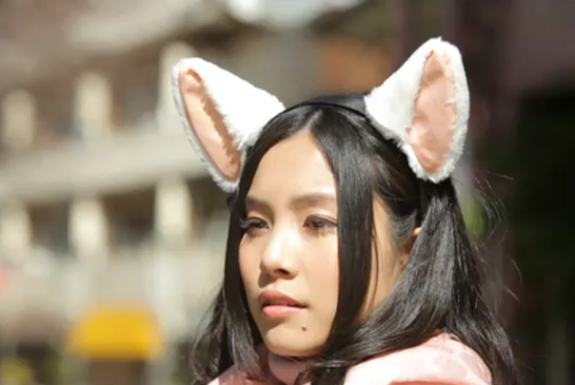 Japan is famous for it's quirky cultural trends and bizarre tech gadgets. Yet even by Japan trend standards, Necomimi is ridiculous looking—and technologically wondrous.
Literally translated as "cat ears," Necomimi1 appears at first glance to be a regular headband topped with two furry ears. It's like what you'd expect to receive if you rented a cat outfit from a costume store. The amazing part is that the ears move, not randomly but based on the brainwaves of the Necomimi wearer!
If a Necomimi device sits upon a brain that shows signs of concentration the ears will perk up. The more a Necomimi senses a relaxed, chill brain the more the ears will bend down. See it in action in the video, below.
While many of our western readers will no doubt be horrified at prospect of outwardly displaying to the world the degree to which they are paying attention, in Japan an emphasis is placed on communicating through non-verbal signals. In this way, the Necomimi concept is very Japanese. That said, we don't expect ever to travel to Osaka and find everyone there walking around wearing furry cat ears.
The company behind Necomimi, Neurowear, hasn't announced yet when the Necomimi will go on sale to the general public or what the price will be. But Neurowear is already working on applying the same technology to developing mind-controlled wheelchairs and thought-controlled cars. Wearing cat ears is likely to be optional for drivers.


published: 19 May 2011

1 Note that "Necomimi" and "Nekomimi" are transliterations of the same Japanese word. The problem being that Nekomimi (with a 'k') is the term usually associated with the use of feline qualities in Japanese anime, as used in the Moon Phase series for instance. So it is Nicomimi (with a 'c') that's become the de facto roman-character word for the Neurowear product.
LEARN MORE (Japanese only) | JOIN US ON TWITTER / FACEBOOK |
Related posts:
Unusual Restaurants: The Cat Cafes of Tokyo
Cool YouTube Video: Cat Waking Owner
Pet Airways: The Airline For Cats and Dogs