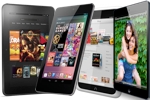 spot cool stuff TECH
When the iPad first launched, then Apple CEO Steve Jobs remarked in an interview that the company would never built a 7-inch version of its tablet. Customers, he said, wouldn't want them.
Since then two things have happen. First, sadly, Steve Jobs has passed away. And, second, a slew of 7-inch tablets have rocketed in popularity, cutting significantly into Apple's market share. Three tablets in particular saw their sales climb: the Google Nexus 7, the Amazon Kindle Fire HD and the Barnes & Noble Nook HD.
The combination of both of those events lead Apple to launch their own 7-inch tablet: The Apple iPad mini. So how does it compare to those competitors mention above? Our review:
---