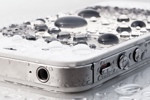 spot cool stuff TECH
Since returning from the 2012 Consumer Electronics Show the question we've been asked most is: What was the coolest thing you saw?
After some contemplation, we've settled on our answer: Liquipel. It's a nanotechnology service that waterproofs electronic gadgets without adding any weight to a device or any altering it in any discernible way.
---