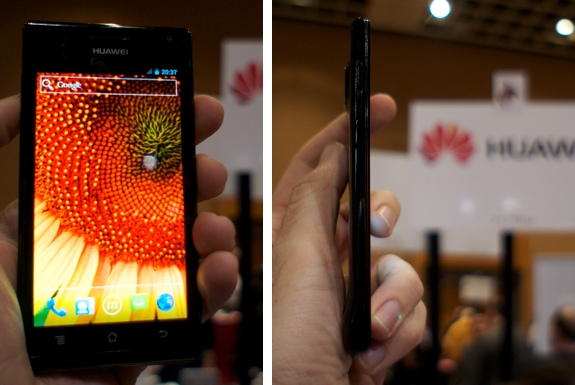 "Thinner and Brighter" could be the unofficial moto of the 2012 Consumer Electronics Show. One tech company taking that to an extreme is China-based Huawei (pronounced "Wah-Way"). At CES, they unveiled the Ascend P1 S, the world's thinnest smartphone.




The Huawei Ascend P1 S is 6.68mm (0.26 inches) thick. That's about the same thickness as a pencil!
But the cool thing about the Ascend P1 S is that it doesn't seem to be super-thin for the sake of being so. The device feels very solidly built. And the 4.3-inch screen is bright and gorgeous-looking. It sports a 960 x 540 resolution and is topped by Corning Gorilla Glass.
Under the hood—to the extent that something this thin has an "under the hood"—the P1 S has some technological game too. Features include:
• Dual-core 1.6GHz processor
• 8 MP rear-facing camera with 1080p HD video
• 1.3 front-facing camera
• 5.1 surround sound with Dolby Mobile 3.0 Plus
• 1800mAh battery
Add to all that Android 4.0 (Ice Cream Sandwich) and the Huawei Ascend P1 S is looking like thin goodness.
The P1 S is expected to be available in Europe this spring and North America in the summer.
published: 10 Jan 2012

JOIN US ON TWITTER / FACEBOOK |

See an overview of the Consumer Electronics Show and the four tech trends for 2012