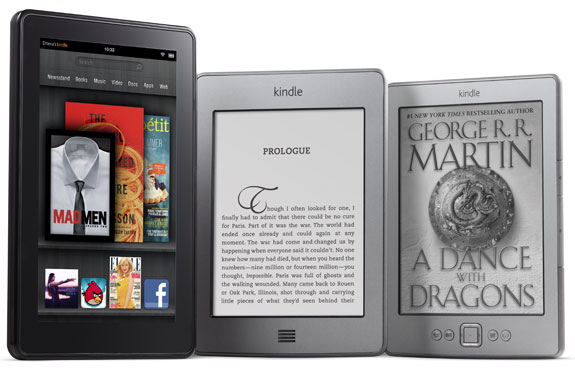 Online super seller Amazon announced today a completely revised line-up of their Kindle family of eBook readers and tablet computers. The announcement included good news for nearly everyone (except perhaps Apple—we'll get to that in a bit).
For the thrifty, there's the new entry-level Kindle that can be had for a mere US$79. For the tech savvy and lovers of iPads, the colorful Kindle Fire holds out the promise of being a full fledged tablet computer. For fans of the current Kindles, you get a more powerful model called the Kindle Touch that will be available with 3G or without 3G.
Our overview of each:




Amazon Kindle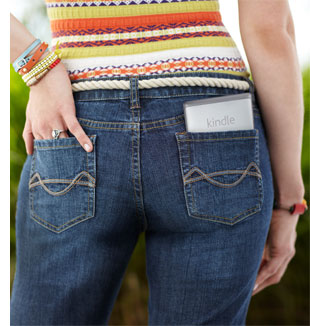 Sometimes you really can get more for less. Compared to the previous model, Amazon's new entry-level Kindle is 30% lighter and 18% smaller (while keeping the original's 6-inch screen size). It is also faster and comes with wifi standard, not as an extra option. Yet despite these significant improvements, the new Kindle costs less than the one it is replacing. Only $79! That makes the Kindle the very best value eBook reader on the market—by a long shot.
Screen: 6-inch e-ink display with 16-level gray scale, 167 ppi resolution
Weight: 5.98 ounces (170 grams)
Battery Life: Up to one month with wifi turned off

LEARN MORE & BUY | JOIN US ON TWITTER / FACEBOOK |

Amazon Kindle Touch
The new Kindle Touch is $20 more than the basic Kindle; it's also a touch wider, taller and thicker. So what do you get for that extra money and weight? A whole lot!
The Touch, as the name implies, features a touchscreen, which makes navigating eBooks (and the internet via the included browser) easier and more intuitive. The screen is a bit brighter, yet the touch has twice the battery life of the basic Kindle (with the wifi turned off). It also features the Kindle's new so-called "X-Ray," which is a sort of wiki that provides reader-generated content about the themes, characters and places featured in a particular book.
The Touch is also available in a 3G model for $149. That would allow for the downloading of books, newspapers and magazines from anywhere that has a 3G cell signal—including internationally! Though $50 is a hefty premium percentage-wise over the non-3G Kindle Touch, there are zero fees involved in using the service. A great deal, says Spot Cool Stuff.
Screen: 6-inch e-ink touchscreen display with 16-level gray scale, 167 ppi resolution
Weight: 7.5 ounces (213 grams) for the Kindle Touch, 7.8 ounces (220 grams) for the model with 3G
Battery Life: 2 months with wifi and 3G turned off, about 3 weeks with it on
LEARN MORE & BUY | JOIN US ON TWITTER / FACEBOOK |




Amazon Kindle Fire
Just when it seemed the tablet computer market couldn't get any more competitive, Amazon turns up the heat with their new Kindle Fire. Get in line now if you want one by Christmas—the Fire is currently available for pre-order and demand will be high.
Once the Fire hits the market expect to see a lot of virtual ink spilled comparing it to the Apple iPad and similar Android tablet devices. Spot Cool Stuff will be joining that fray though a few conclusions can be made right now:
First, though the Fire inherits the Kindle name, its lack of an e-ink display means the device really is a tablet computer and not only a glorified eBook reader. It is the e-ink technology that makes reading printed words on a regular Kindle so pleasing to the eye. In terms of user experience, it doesn't seem like there will be much difference between reading a book on the Kindle Fire compared to reading it on an iPad using the Kindle app. (To put a fine point on it: eBook power readers will greatly prefer the Kindle Touch to the Fire).
Second, the Kindle Fire is shaping up to be one amazing media machine. Amazon has made huge strides expanding their instant video library; their collection is growing at a fast clip and alreadyy contains over 10,000 movies and television shows. Plus, Amazon Prime users can watch a big chunk of the video library for free (along with receiving other perks, like free 2-day shipping).
Finally, with the whole of the new Kindle lineup it is clear that Amazon has made a commitment to being value leaders in the tablet and eBook reader market. The price for the new Kindle Fire? An extremely budget friendly $199.
Screen: 7-inch color touchscreen display with IPS (in-plane switching) technology, 169 ppi resolution
Weight: 14.6 ounces (413 grams)
Battery Life: 8 hours of continuous reading, 7.5 hours of video playback
LEARN MORE & BUY | JOIN US ON TWITTER / FACEBOOK |
published: 28 Sept 2011

Related posts:
Google Chromebook Review: Acer vs Samsung
GelaSkins: Design Your Own Gadget Coverings
Kodak Pulse: The Picture Frame You Can Update From Anywhere