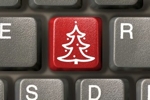 spot cool stuff TECH
Is it the best point-and-shoot camera you can buy? Definitely not. But is it the best value? Heck yes, says Spot Cool Stuff.
It's Cyber Monday! Online deals for gadgets and electronic stuff abound. But which products are a genuine good deal as opposed to only being, well, cheap?
Here's a look at six tech products in the former category. Our selections range greatly in price (from $35 to almost $5,000) but each represents a high value in its own way. Each is also an item Spot Cool Stuff loves.
---