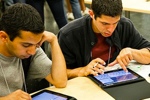 spot cool stuff TECH
Tablet computers are joining backpacks, bicycles and beer pong tables as essential items for university and college students. Some students in high school (and earlier) are taking tablets to class too.
On a tablet a student can read (and purchase) textbooks, manage a to-do list, keep a calendar of assignments, take notes in class, conduct research, check email, collaborate with other students, use educational apps and, of course, procrastinate with Angry Birds. On many tablets you can write or edit papers too.
As such, a good tablet computer for a student is one with a long battery life, with enough processing power to run high-end apps and with a screen that's especially easy to read. Students tend to type more on their tablet than typical users, so a large, responsive on-screen keyboard can be essential.
There's another consideration when choosing your tablet: The operating system prevalent the institution where the tablet will be used. Some schools are very Apple and Mac oriented. Others are more Chrome- and Google-centric.
With that in mind, here are Spot Cool Stuff's tablet recommendations for students. As always, you can click on the category that most interests you or continue reading on after the jump.
---