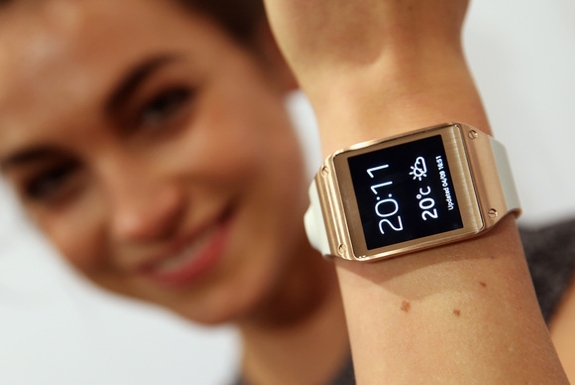 It has been about five weeks now since Amazon.com launched their wearable technology store. Smartwatches, activity trackers, body-mountable cameras, connected eyeglasses — wearable tech encompasses pretty much any item that 1) includes a microprocessor and 2) is meant to be worn. Go figure.
Many prognosticators believe "wearable" will be the next Big Thing in technology. (Spot Cool Stuff believes so too, though we see it taking off later than most experts and view 3D printing as being the bigger next Big Thing). At the moment, though, Amazon's new wearable tech store has rather slim pickings.
Slim. But not entirely devoid of cool products. Here are our five favorites:

Samsung Gear 2 Smartwatch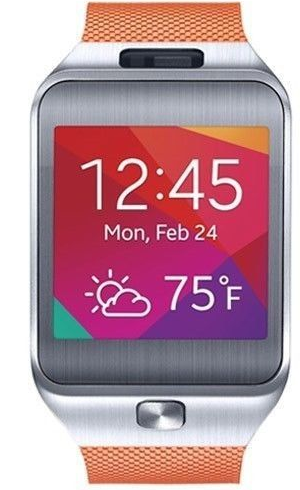 What it is: A miniature smartphone strapped on your wrist.
Of all the smart watches currently on the market, we think the Samsung Gear 2 is the one that's most worth wearing†. It runs apps like Facebook, Twitter, email and weather. It's a camera, an MP3 player, a TV remote, a voice memo taker and (if you pair it was a compatible Samsung product) also a phone. Very Dick Tracy. It also has some of the health tracking functionality of the FitBit (below), serving as a pedometer, heart rate monitor and exercise tracker/coach. But what's superlative about the Gear 2 is that it's comfortable to wear. Though slightly larger and heavier than your regular watch, the Gear 2 doesn't feel like you are wearing a miniature computer. Plus it's water resistant.
Does all that make the Samsung Gear 2 Smartwatch a must-have piece of gear? We don't think so. But it does make it very cool.
Current status: Available. $299
Note: There are a variety of other smartwatches on the market. Besides the Gear 2, the only other one we'd recommend is the Pebble, which can be paired with an iPhone or Android smartphone.
† Not to be confused with the original version of the Samsung Gear Smartwatch, which was rather suboptimal.

The Narrative Clip
What it is: A small, square, clip-on 5MP camera that takes a photo every 30 seconds.
The idea is that you'll attach your The Narrative Clip to your shirt, hat or bag and then capture all those spontaneous, "real," everyday moments as they happen. The battery life and 8GB of internal memory means you can use the Clip "for days." As for what to do with all those photos, an app keeps them organized and lets you search through them by date and location. And if you don't have time to go through them all yourself — and you probably won't — the software will pick out what it thinks are the best shots.
Current status: Available for pre-order. $229




Fitbit Flex & Fitbit One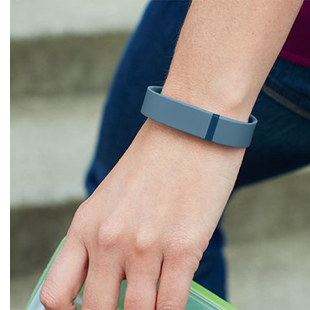 What they are: Health and fitness trackers that continuously sync with your computer and smartphone.
The Fitbit Flex (pic to right) is a wristband. The Fitbit One (pic below) is a sort of pendant that you can clip onto a belt or pocket — though, for some of the functionality, you have to wear it inside the included wrist band. Both Fitbits will monitor the quality of your sleep, the steps you've taken, the distance you've walked/run and the calories you've burned. Both let you set health goals and compete with friends to meet them. Both have silent alarms. Both, we think, are rather cool. So what's the difference between them? The Fitbit One will also track the stairs you've climbed and has a tiny OLED display. Other than that, the difference is stylistic.
Current status: Both are available for the same price: $99.

[ ALSO ON SCS: Gifts for Tech-Loving Travelers ]

Recon Jet
What it is: Connected eyewear — self-billed as "the world's most advanced wearable computer" — designed specifically for athletes.
What's the difference between Google Glass and the Recon Jet? you ask. While Google Glass is meant to be a wear-all-day alternative to a smartphone, the lighter, more durable Recon Jet is for use outdoors during athletic endeavors. As such, the screen attached to the lower third of the right lens displays information like heart rate, speed, cadence, altitude and distance to your destination. Unlike Google Glass, the Recon's software runs on an open platform, allowing developers can build apps for it. And, oh yeah, the Recon's pre-order price is about $900 less.
Current status: Shipping Fall 2014. $599

Tagg Pet Tracker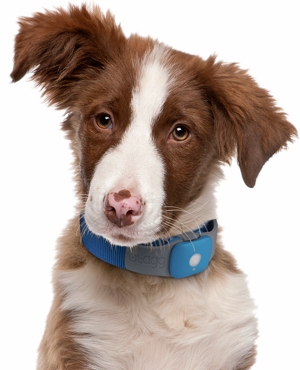 What it is: GPS location for pets.
Not all wearable tech is intended for humans. The Tagg GPS Pet Tracker is clipped onto your dog's or cat's (or goat's) collar. In addition to mapping your pet's location‡ on your computer or smartphone, The Tagg will send you an alert when your pet has left a specific zone. The Tagg also monitors Fido's activity level, displays that data in several graphical forms (see example below) and gives your pet an overall health score.
Current status: Available now. $99.95 (or $93.95 with discount) plus $7.95 monthly fee after first month
‡ Within 25 feet (7.8m) of accuracy, at least.
published: 13 June 2014

JOIN US ON TWITTER / FACEBOOK / PINTREST / GOOGLE+ / LINKEDIN / TUMBLR


Elsewhere on the web: