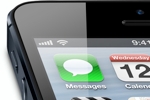 spot cool stuff TECH
When Apple has a major product new launch, a lot of websites will give you the specs and highlights of latest iWhatever. At Spot Cool Stuff, we do that too. But then we focus on the practical questions at hand: Whether or not the new product is worth spending your money on.
That was our approached when the iPhone 4S launched. So it was with the release of the 3rd generation iPad. And now we turn our attention to Apple's latest announcement: Should you upgrade to the new iPhone 5?
---