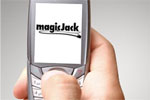 spot cool stuff TECH
The makers of MagicJack have, for years now, implored you in late-night infomercials to ditch your telephone company landland and use their product instead. Their device, about the size of a deck of playing cards, connects to a computer on one end and to a regular telephone on the other. With a MackJack thusly installed a user can place any phone call over an internet connection; calls to or within the U.S. are completely free.
(Or course, what MagicJack doesn't tell you in their infomercials is that theirs isn't the only internet telephony service. See our comparison of MagicJack, Skype and Vonage. Ooma also has a VoIP product that's more expensive but otherwise superior to MagicJack's).
Starting in the spring of 2010 MagicJack will be expanding their competitive sights to the cell phone companies. A new MagicJack device will allow users to use their mobiles to make and receive free calls.
This new MagicJack has received a great deal of press. The AP even ran an article titled MagicJack's next act: disappearing cell phone fees.
But will the new MagicJack really let you ditch your cell phone company?
---