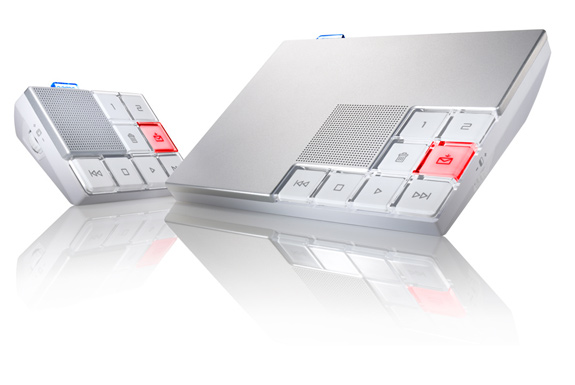 In our recent review of MagicJack, Vonage and Skype one commenter asked why we excluded ooma from our comparison. Like those three VoIP services, ooma (yes, the company uses a lower case "o") allows users ditch their telephone landline and make calls over the internet.
Our reason for the excluding ooma in the previous review? We didn't have enough first hand experience of the product. Now we do. Here's our review . . .




How It Works
The ooma system includes two types of hardware: Hubs and Scouts (and in this way resembles the board game Stratego).
The ooma Hub is a box about the size of a typical hardback novel. It connects your existing phone to the internet. You plug the ooma Hub into your high speed modem and your phone into the Hub. Then you register your Hub on the ooma website and voilà you have home phone service. Since ooma is hardware driven (unlike MagicJack) your computer need not be turned on for your ooma-powered phone service to work.
The ooma Scout is about half the size of a Hub and extends your internet phone service to other phone jacks in your house. As with the Hub, you plug your phone into the Scout and the Scout into the telephone jack. You can add up to five Scouts; you'll automatically get one Scout when you buy a Hub as part of the ooma Core bundle. (While ooma does not capitalize their own company name they've annoyingly decided to capitalize the names of all the products they sell).
Setting up ooma is easy—we had ours up and running in about five minutes—and ooma has a helpful website that explains it all. The ooma telephone customer service, however, seems to exist only in theory. We called their technical support twice and both times hung up without speaking to someone after waiting on hold for 45 minutes!
Note that ooma is intended as a United States service only. From the U.S. you can use ooma to call any phone in the world but from outside the U.S. you can only call other ooma customers.




Cost & Features
Through Amazon.com the ooma Core is currently only $200; that's 20% less than retail. The Core gives you a Hub and a Scout—with that you can use the ooma service on two telephones. For each additional telephone you'll need another Scout (currently $65). If you want to transfer your current landline phone number that's another $40.
Once you have your ooma Hub and Scout(s), and paid to transfer your phone number (optional), you should have free landline telephone service, with free U.S. domestic calling, for life!!
We say "should" because there is a catch, of sorts. Your lifetime of free phone service is dependent upon ooma staying in business (or being bought by a company that continues the service). There have been a series of articles for two years now about how ooma is on a verge of going under. That may be a sign that the company is resilient. Or a sign that, eventually, the reports of ooma's pending demise will prove correct. If ooma were to disappear their hardware would be useless.
The ooma service includes caller ID, call waiting, 911 emergency dialing and voicemail. And not just any voicemail. The ooma voicemail service is really fantastic. You can retrieve your voicemail on you Scout and Hub. Your voice messages are also stored in online files. You can go onto the ooma website and hear your messages, organize them into folders, and even send them as email attachments.
Ooma also has a Premier service for $13/month or $100/year; it is through selling this Premier service that ooma hopes to stay in business. Ooma Premier customers get a free second phone line, three-way calling functionality, voicemail forwarding and custom ringtones among a few other extras. Unless you want the second line you are unlikely to find the Premier service worthwhile.
While domestic calls within the U.S. are free on ooma they do charge for international. Generally speaking ooma's international rates are a bit more than Skype, a bit less than Vonage and significantly less than MagicJack. The specifics of it depend on where you are calling. Some sample rates:
Cost Per Minute Calling From the U.S.A. To . . .
| | | | | |
| --- | --- | --- | --- | --- |
| Country | ooma | MagicJack | Vonage | Skype |
| Canada | $0.014 | free | free | $0.024 |
| England | $0.019 | $0.15 to landline, $0.04 to $0.36 to a cell phone (depending on the provider) | free | $ 0.024 to landline, $ 0.291 to cell phone |
| Germany | $0.022 | $0.22 (yes, 10x more than ooma) | $0.04 | $0.021 |
| India | $0.085 | $0.15 | $0.15 to $0.18 | $0.092 |
| South Africa | $0.09 to cell phone, $0.245 to landline | $0.21 to cell phone, $.06 to landline | $0.10 | $0.068 |

Pros, Cons & Recommendations
The Advantages of Ooma:
Totally free domestic calls (once you've bought the hardware)
Works with your existing phones and independently of your computer
Easy setup
Superb voicemail functionality
High quality calls—on par with Vonage, a notch above Skype and better than MagicJack
The Disadvantages of Ooma:
High upfront cost (though with the promise of long term savings)
Only for users in the United States
Terrible telephone customer support
Service dependent on the company staying in business
Should You Buy Ooma?
If you are outside the United States then no. You'll be best off with Vonage if you live in Canada or the UK, and with Skype if you live elsewhere. See our full review for details.
If you live inside the U.S., we strongly suggest ooma over MagicJack. Yes, ooma is $200 versus $40 for MagicJack. But MagicJack also charges $20 per year (and that's the price now—it could go up). On top of that, ooma offers higher quality calls, works without your computer on, works with multiple phones and, perhaps most of all, doesn't have the troubling privacy and software concerns MagicJack does.
As a landline replacement, we would also select ooma over Skype. Though, as we argued in our other review, Skype is the better choice if you primarily use your cell phone to make and receive your calls. Skype also travels well internationally.
The choice between ooma and Vonage is more difficult. The Vonage unlimited plan is $25 a month. However, with Vonage there's no extra cost for transferring your current phone number ($40 extra with ooma). With Vonage you can use up to four telephones through your normal telephone jacks; with ooma you'd have to buy three Scouts (at $65 a piece) to do that. The Vonage plan includes free calls to Canada, Italy, Ireland, UK, France and Spain—all cost extra with ooma. Vonage also offers significantly better customer service.
Add all those factors together and your particular circumstances probably point towards one service or the other. If your primary concern is cost and you make mostly domestic calls then ooma would fit you better. If you frequently call any of the six countries included in the Vonage unlimited plan and/or place importance on choosing a more stable company with better technical support then go with Vonage. And if you still can't decided flip a coin and be happy you have two good choices.
LEARN MORE & BUY | FOLLOW US ON TWITTER |
Related posts:
Top Skype Phones
MagicJack vs. Vonage vs. Skype
The Best Smartphone Never Built
The Skype iPhone App




What you get with the Core bundle: the ooma Scout (left) and Hub (right) . . .

OOMA | VONAGE | SKYPE | FOLLOW US ON TWITTER

Pricing update: Through July 31st Amazon is giving away a free iPod Shuffle with every Ooma purchase!