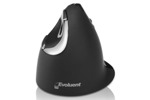 spot cool stuff TECH
The computer mouse has been around for nearly as long as the computer has — the first trackball was invented as part of a secret U.S. government military project back in 1952!
Since then, there have been many variants of the mouse, with most new iterations better than the last. We've written before about the surprisingly well-designed Microsoft Arc Mouse. And we love (and always travel with) an Apple Magic Mouse. But somehow every mouse we've used also has something about it that doesn't feel quite right. We couldn't figure out what exactly that something was until we tried the Evoluent VerticalMouse 4.
---