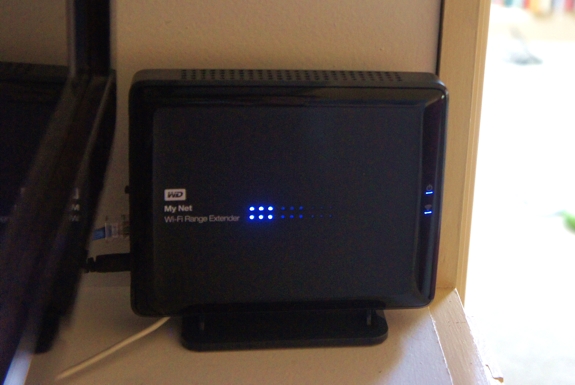 Spot Cool Stuff recently moved into a farmhouse. It's a lovely place, built in the 1780s, but there's something about the layout or the construction materials used or the ghosts of past generations who lived here or we-know-not-what that prevents a wireless internet signal from traveling through the house well. What's a four-bar wifi signal in the home office is reduced to one bar most anywhere else downstairs. Upstairs there's no signal at all.
So we asked our Tech Editor to propose a solution. The one he came up with: the Western Digital My Net Wifi Range Extender.
It seemed too good to be true, if only because the paperback-sized device costs a mere $35 with the current Amazon discount (versus the $75 retail price). Here's what we found when we gave it a try:
Setting up the WD My Net Wifi Range Extender
One of the best features of the WD My Net Wifi Range Extender: it's incredibly easy to set up — if you know how. But don't look to the instructions included in the box to offer any guidance. Inexplicably, said instructions don't provide the most essential explanation even though that could be done with a simple paragraph of text.
Here's all you have to do: Plug in and turn on the Range Extender and then go to the available wifi networks on your computer. You'll see one with an SSID named WDRangeExtender. Select it and then go to any internet page (or http://192.168.1.230 if that doesn't work). Then follow the onscreen instructions. You'll be asked to choose the network that you want to extend and to type in its password (if there is one). That's it! If you run into trouble, Western Digital has an excellent trouble shooting guide available online.
Because the setup is done wirelessly via a browser, no cords or cables are required. The My Net Range Extender is also system agnostic. It works with a Mac and PC. You can also do the set-up on any smartphone or tablet with a browser.
In case you are curious, the included instructions suggest you connect the Ranger Extender by pairing the device to your wifi signal using WPA buttons. This didn't work for us nor does it seem to for most people.




The Performance of the My Net Range Extender

Once you've completed the set-up process, handy LEDs on the side of the Range Extender will light up. The more dots that are lit the stronger the signal it's receiving (and thus the stronger the signal being sent out). These lights remove the guess work from the decision of where to place the Range Extender for optimum performance.
The WD My Net Wifi Range Extender is capable of reproducing a 450Mbps play rate over 802.11 n/g/b/a. It features a 3 x 3 MiMO antenna array (versus a 2 x 2 structure most other extenders used). But those are the technical details. What's key to know is:
The WD My Net Wifi Range Extender works!
It gave us three or four-bar coverage around our entire house in addition to extending two bars of wifi to the back patio. We were able to get one bar as far as 80 feet (25 meters) from the signal source. Others have reported getting a useable signal up to 150 feet away, but with so many factors that can effect individual results we suggest setting your expectations lower than that.
Another cool feature of the Ranger Extender: the 1GB Ethernet port. You can use it to connect a television, game console or media player for streaming HD video. To that end, the My Net Wifi Range Extender has the option to transmit over either 2.4 GHz or 5 GHz. 2.4 GHz has a longer range. 5 GHz is faster — what you'd use if your wifi signal is plenty strong at your Xbox, for example, and if it's located too far from your router for an Ethernet cable to conveniently reach. (Compared to purchasing an Xbox Wireless Network Adapter, the WD Range Extender is faster and more versatile and cheaper!)
The WD My Net Wifi Range Extender even looks good sitting on a shelf. And at a mere $35, it is hard to go wrong.
published: 30 Aug 2013

LEARN MORE & BUY | JOIN US ON TWITTER / FACEBOOK / PINTREST |
More from Spot Cool Stuff
A Review of the Roku 3 Streaming Video Player
EPIX Movies, NBC Shows Come to Amazon Prime
The Ouya Android-Based Video Game System