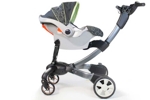 spot cool stuff TECH
Over the last few decades, baby strollers have developed hipper designs and incorporated more rugged frames and lighter weight materials. But baby stroller technology (such as it is) has remained essentially the same as it was at the turn of the century — the 19th century.
Happily, the humble stroller now is starting to become a little less humble. (And just in time for Spot Cool Stuff's first baby, too!) A handful of new stroller start-ups are recognizing that today's mobile and tech-savvy parents want those qualities reflected in their strollers.
We'll be publishing a post later on new stroller concept designs, some of which might make it into development and some not. For the moment, though, we are focusing on high-tech strollers currently on the market. Spot Cool Stuff's top choice among those: the 4moms Origami.
---