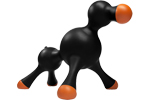 spot cool stuff TECH
Last year humans world wide spent an estimated US$100 billion on products for dogs. With a market that big is it surprising that some of those products would be, shall we say, sub-optimal?
With that in mind Spot Cool Stuff decided to take one of our occasional breaks in our quest for superlative stuff and look instead for the worst. In this case, the worst dog products we could find.
If you're more feline inclined don't feel left out—we'll review the worst cat gadgets and products in the future. Sign up for our tech RSS feed to get that, and all our tech articles, delivered to you by email. Or join us on Twitter or Facebook, to be notified when that comes out.
---