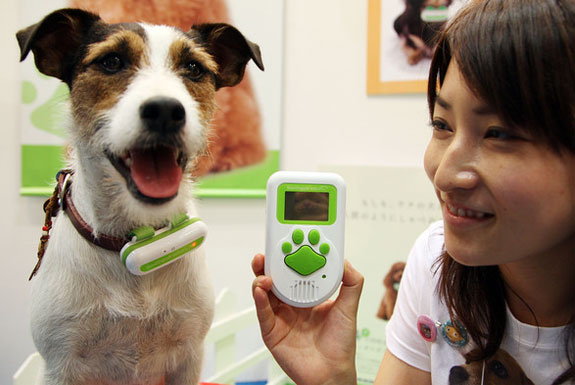 Almost every dog lover has at some point dreamed of being able understand exactly what canines are saying with their barks and growls. Doing its dog-ged best to fulfill that fantasy—or at least profit off it—is the manufacturer of the BowLingual Voice, an electronic dog-to-human language translator.

The BowLingual Voice was unleashed by Takara Tomy, a Japanese company (because, really, no marketing department of native English speakers would assign a product such as this a name that starts with "bowel"). The company claims that their BowLingual can translate a hundred (aka a hound-dred?) different barks.
To understand the reality of the BowLingual it helps to know that Takara Tomy is a toy manufacturer, not a pet-related company.
The BowLingual consists of a dog collar and a handheld controller/speaker. What this gadget does is assign each of your dog's noises one of six moods: happy, sad, content, needy, frustrated or anxious. The BowLingual then comes up with a phrase that matches that mood. It is here that the accuracy of the translation seems to go off the rails. Because, according to the BowLingual, everything your dog says is some odd, cutesy Japanese~esque phrase such as:
Try saying my name.
- or -
You make me smile.
- or -
I've got a funny feeling.
According to the BowLingual your dog never says anything like Get the hell off my yard, mailman! or I've got an urge to chew up your socks. So, either there's been something lost in the BowLingual's translation or dogs live surprisingly surreal lives.
The new BowLingual, launched in August of 2009, adds a few features (though no improved accuracy) to the inaugural 2002 model. This latest BowLingual comes with a sort of doggy answering machine that records Fido's barks—and their supposed meanings—while you are away. The new BowLingual will also speak translations out loud in addition to displaying them on the handheld's screen. See it in action in the (Japanese-language) video, below.
In short: the BowLingual Voice is a fun novelty toy with a significant, if not long-lasting, bow-wow factor. But to truly understand what your dog is saying you are likely to have more success with a Vulcan mind meld.
To get your paws on a BowLingual you'll need ¥20,000 (about US$200, €150). You'll also need to be in Japan (although it is likely that the BowLingual will become available through Amazon Japan eventually).
At the time of writing, the BowLingual is only available in Japanese. Though, think of the fun you can have throwing an electronic Japanese-English translator into the mix. Rover barks I'd like to go outside to poop and after his message has been translated from Dog to Japanese to English it turns out that what he really said was Purple monkey refrigerator.
LEARN MORE (Japanese only) | AMAZON JAPAN | FOLLOW US ON TWITTER |
Related posts:
RoamEO: The GPS System For Your Dog
Pet Airways: The World's First Animal-Only Airline
Eat Breakfast With A Giraffe
The World's Worst Travel Gear





LEARN MORE (Japanese only) | AMAZON.COM JAPAN | FOLLOW US ON TWITTER