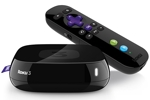 spot cool stuff TECH
Big things come in small packages, they say.
"They" must certainly have a Roku 3 Streaming Media Player. It's Spot Cool Stuff's new favorite way to watch streaming videos and on-demand television — and cost-effective too.
It works like this: You connect the little Roku 3 box to the internet, either through an Ethernet cable or wifi. Then you hook the box up to your HD television1 via an HDMI cable. And — voilà — you are ready to watch television (and listen to music and play games . . . more on that in a moment).
---