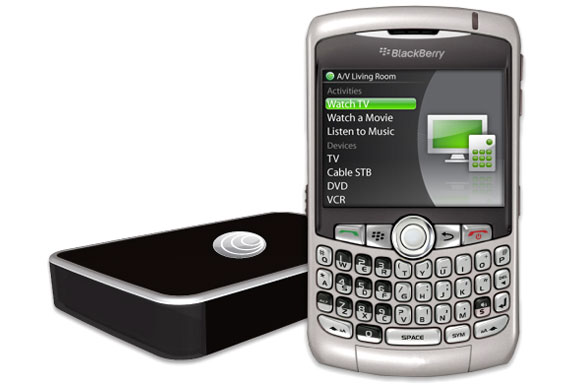 In addition to using your BlackBerry to make phone calls, write emails and play BrickBreaker, you can now use it to change the channels on your TV, pause your Blu-Ray player and program your TiVO. That thanks to a new app that gives your BlackBerry all the functionality of a universal remote control.
The product is called the AV/Shadow (which sounds to us like a black and white photography book) from Unify4Life (which sounds to us like New Age church). The company's skill at naming things is very questionable. Their skill at making one uber-cool BlackBerry app is very much not. Check out the video demonstration, below.
Central to the AV/Shadow's excellence is the efficient user interface. The AV/Shadow can control up to 16 different devices, including a TiVO, iPod, cable or satellite set-top box, all the components of a home theater system and even your lights and garage door! Easy menu navigation not only makes it easy to jump between devices but also to control multiple devices simultaneously.
We also love how the AV/Shadow operates via Bluetooth—it works from 30 feet away even if you don't point your BlackBerry at the device you are controlling. With the AV/Shadow you can stream music from your BlackBerry to your stereo speakers. And the AV/Shadow lets you peruse TV program listings on your BlackBerry screen.
One potential downside is the US$100 price tag. That's expensive compared to your typical $10 BlackBerry app and to the $40 Logitech Harmony 520 universal remote. Then again, it is less than favorite universal remote, the Logitech Harmony One. Plus, conventional remote controls have a way of being misplaced. If you are like us, you always know where your BlackBerry is.
LEARN MORE | BUY BLACKBERRY PRODUCTS | FOLLOW US ON TWITTER |