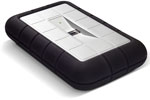 spot cool stuff TECH
You needn't be an international banker, royal family member or Scarlett Johansson to want to keep your private files private. Basic digital security is something everyone should (do but few people actually do) practice.
One easy step you can take: When you save your files to an external disk drive, especially one you are likely to travel around with, make it a biometric drive. Like the LaCie Rugged All-Terrain Fingerprint-Secured External Hard Drive.
---