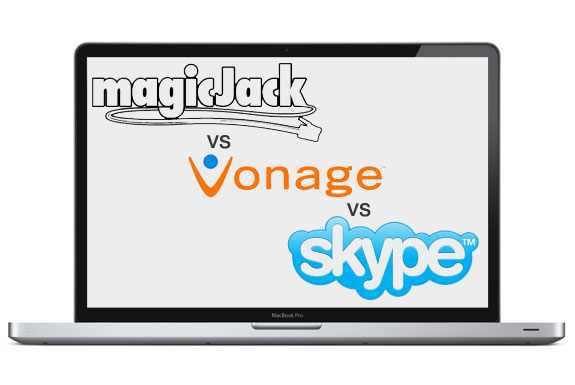 Telephone land lines are expensive. And so very 1990s. If you have a high speed internet connection you already have a modern communication line you can use for telephone calls.
With an eye towards ridding yourself of your phone company, Spot Cool Stuff examines three internet telephone services: MagicJack, Vonage and Skype. With all three you can dial out to any telephone number in the world. With all three you can receive a call from any telephone in the world. It is there, though, that the similarities end.
So which of the three services is best? Read on for our full analysis or skip ahead to the conclusion.
Set Up And Equipment Needed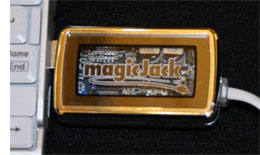 MagicJack is a cool matchbox-sized device that converts your normal phone jack to a USB outlet—you plug your existing phone into the tiny MagicJack and then plug that into your computer. Before you can make a phone call you'll have to install some software (it works with Windows and the Mac OS but not yet Linux), register with MagicJack and get your assigned phone number. The whole installation process takes 5~10 minutes. The catch is: to make or receive calls with MagicJack your computer must be turned on with the MagicJack software running.

Vonage, unlike MagicJack, bypasses your computer altogether. You plug your phone into the Vonage phone adapter and the Vonage adapter into your high speed modem. From there, you use your phone exactly as you would a land line one.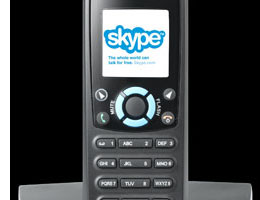 Skype, at its most basic level, is a free program you download onto your computer via the mobile app. If you have a computer microphone and speakers (or a headset with a microphone) then you can talk to any other logged-in Skype user for free! Through the software you can also call any phone number (either land line or cell) for a fee. To use Skype like your current land line phone, though, you'll also have to purchase a phone number and a special Skype-enabled phone; the current phone you have in your house will not work. Sadly, there isn't yet a huge selection of Skype phones—read our reviews of the best ones.
AND THE BEST IN TERMS OF SET UP AND EQUIPMENT NEEDED IS . . .
Vonage, the only one of the three that let's you use your current phone with your computer turned off.
Cost
MagicJack is $40 for the first year (that includes the physical USB adapter and software) and $20 for every year after that. From the U.S. you can call anywhere domestically or to Canada. All incoming calls are free but you'll be charged per minute for outgoing international calls. For example: $0.22/min to Germany, $0.15 to India and $0.21 to a cell phone in South Africa but only $0.06 to a land line. Click here to see all of the current MagicJack international rates.
Vonage has a variety of plans but their most popular residential plan is $25 a month. That includes unlimited calling to the U.S., Canada and land lines in Italy, France, Spain, UK and Ireland. International rates include $0.04 to Germany, between $0.15 and $0.18 to India (depending on where you are calling) and $0.10 to South Africa. The cheapest Vonage plan is $18/month and there are a variety of options that provide for unlimited calling to certain countries.
Skype's software is free, as is calling to other Skype users. The cost of making calls to non-Skype phones depends on your particular situation. You can buy credits to make calls on a pay-as-you-go system. Using credits you can call domestically in the U.S. for $0.021 a minute. International rates are generally (although not always) cheaper than either MagicJack or Vonage; for example: Germany for $0.021/min, India for $0.092, South Africa for $0.068. There are also three monthly plans available that allow unlimited calling within a specific geographic area: U.S & Canada for $3/month, North America for $5/month or 39 countries for $10/month. A phone number, which you'll need to receive calls (obviously) or to make them via a Skype phone, is $30/year if you are also subscribed to one of the monthly plans.
AND THE BEST IN TERMS OF COST IS . . .
MagicJack, by a considerable margin, if you call primarily within the U.S. and Canada. If you make a lot of international calls Skype may well end up being cheaper for you.

Call Quality
Each of these services is capable of delivering clear quality calls. On occasion each of these services deliver calls that make the people on the other end of the phone sound like they are submerged in water.
Given that, anyone who definitively tells you that one of these services absolutely offers better call quality than another is almost certainly bias in some way. It is impossible to make an objective blanket statement comparing the three. Not only does the quality depend greatly on the quality of your internet connection, the quality of your computer (in the case of MagicJack) and the phone number you are calling but it also seems to have a certain randomness factor.
For what it is worth, Spot Cool Stuff has used all three services from a variety of locations. In our experience Vonage provides high voice quality calls most consistently. However, this week Skype released it's much anticipated software version 4.0 for the PC. We've found the call quality the new software provides to be fantastic. Until we test it out more, over a period of months, we can't make any judgments about how consistently it works. However, the initial indications are very positive. (The upgrade for the Mac software, v2.8, is downloadable from the Skype site but is still in beta form at the time of writing.)
AND THE BEST IN TERMS OF CALL QUALITY IS . . .
Vonage, maybe, slightly, possibly, with the caveats given above.

Features Offered
Our basic summary of the features available on each service:
| | | | |
| --- | --- | --- | --- |
| Feature | MagicJack | Vonage | Skype |
| Usable with your computer off | No | Yes | Yes (if you have a Skype phone) |
| Usable with a normal analog phone | Yes | Yes | No (unless you have an adapter; see comment #29 below) |
| Voicemail | Yes, will record a .wav file if your computer is on; you can't call in for messages. | Yes | Yes (free with monthly plan, $20/year otherwise) |
| Video chat | No | No | Yes |
| Send & receive SMS text messages | No | No | Yes |
| Available to consumers outside the U.S.A. | No, but you can travel with the MagicJack and call into the U.S. and Canada | Can use it from anywhere but must have USA, UK or Canada billing & mailing address to sign up | Yes. Skype is the most international and travel-friendly of these three |
| Emergency 911 Calling | Yes | Yes | No |
| Keep your current land line phone number | No | Yes (usually) | No |
| Works with a dialup connection | Technically yes but dreadful quality | No | Yes, okay quality |
| Three way conference calling | Yes, but the 2 calls need to be inbound to you. | Yes | Yes (conference calls up to 9 people possible) |
| DTMF1 | Yes | Yes | Yes, through software 4.0 for the PC and 2.8 (beta) for the Mac |
| Automatic call forwarding (eg. to your cell phone) | No | Yes (free) | Yes (free with subscription) |
| Feature | MagicJack | Vonage | Skype |
1 DTMF is Dial Tone Multi-Frequency. This is what lets you type in numbers to an automated service, when you are asked to push "1″ for one option, "2″ for another, for example.
AND THE BEST IN TERMS OF FEATURES IS . . .
Vonage, if you are looking for the same features you have in your current land line. However, it could be that the feature set of either MagicJack or Skype better fits your particular needs.

Privacy & Customer Service
Here things get tricky when assessing MagicJack as a product. There are MagicJack customers who love the product (eg. check out this positive review of MagicJack). There are also a significant number who consider the company akin to a scam. The complains of the latter group fit into three basic categories:
1) Privacy issues. The MagicJack software displays ads on your computer (which is a major reason why their service is so cheap). And their Terms Of Service states: Our computers may analyze the phone numbers . . . you call in order to improve the relevance of the ads. We do not provide any personal information to our advertisers or third parties. Despite that promise not to share personal information some people feel that the number of telemarketing calls they receive goes up after signing up with MagicJack. Others (including yours truly) are simply uncomfortable with a company collecting data on personal phone calls. (Click here to read MagicJack's CEO response to this criticism).
2) Over charging. There have been a lot of complaints about MagicJack debiting more than the agreed amount from consumers' credit/debit cards and not honoring their 30-day money back guarantee. The complaints launched at least one investigation by a local news agency and lead MagicJack to have an F rating from the Better Business Bureau for many months, though these days their rating is back up to an A-. (Click here to read MagicJack's CEO response to this criticism)
3) Once you install the MagicJack software there's no easy way to uninstall it, especially from Windows where a manual uninstall process involves editing your computer's registry. It has been left to a group of enterprising individuals to create an unofficial (and very anti-MagicJack) online uninstall guide. Further, this software slows some computers even when MagicJack is not in use.
After spending many hours researching the validity of these complaints Spot Cool Stuff has ended up somewhere between the company's ardent supporters and ardent detractors. We don't think MagicJack is a scam. We also think there's some merit to their critics' arguments. The difficulty of uninstalling software that also collects data from your computer strikes us as a particularly bad combination. MagicJack removed their forum from their website and the unofficial MagicJack forum is rife with horror stories about the company. Most troubling of all, MagicJack has no customer support email address or phone number; their Terms Of Service states that any issues with the company must be settled by binding arbitration in a court in Palm Beach, Florida.
It should be noted that both Vonage and Skype have their detractors too and neither is a bastion of superlative customer service.
Vonage has the best costumer service of the three insofar as they have a toll free phone number through which you can speak to a real live person about your issues (if you wait on hold long enough). There is no software associated with using Vonage; it is purely a hardware service.
The Skype software is easy to uninstall, does not display ads and does not collect personal information about your phone calls. The company also has a very active forum on its site. Customer service is conducted by live chat and through support requests; it can sometimes take more than 24 hours to hear back from a request.
AND THE BEST IN TERMS OF PRIVACY AND CUSTOMER SERVICE IS . . .
Not MagicJack.

So Which Of These Three Is Best?
We would love to be able recommend the ultra inexpensive, easy-to-use MagicJack. But we can't. For Spot Cool Stuff to recommend a product we need to have a certain trust level of the company providing it. Given all the privacy and customer service issues around MagicJack that level of trust is not there for us. And even if this trust were there we'd find it very problematic that MagicJack needs a computer turned on to work. (The need for a computer is especially vexing if you primarily use a laptop).

Skype is the best service if you are looking of a compliment to your cell phone. This is exactly how Spot Cool Stuff uses Skype: We use our cell phones for domestic calls and then Skype for international ones. In fact, with the fantastic Skype iPhone app you can use Skype on your cell phone (presuming you have an iPhone). Except for video chats we exclusively use Skype via an iPhone. (Speaking of video chats, it is very cool and surprisingly high quality on Skype).
Another great feature of Skype: it is also scalable. If you make, and receive, lots of international calls you can get a Skype phone and number. If you make a few international calls you can buy a headset along with a few pay-as-you-go credits. Before making an international trip we strongly suggest that people buy $10 in Skype credits if only to have in an emergency to make phone calls home—see our review of useful websites to use while traveling for more info.
At the start of this article, though, we stated that we were looking for the service that could best replace a telephone company land line. Without a doubt, the best service for that task is . . .
. . . Vonage.
If we were to stealthfully break into your house and replace your telephone company land line service with Vontage you might never notice a difference. You'd have the exact same phone number (not so with MagicJack or Skype) and the exact same phone (not so with Skype); you could use your phone without a computer (not so with MagicJack) and you'd be unlikely to notice much quality difference. Yes, Vonage is the most expensive of these three services. But this is one of those times when you get what you pay for.
MAGIC JACK | VONAGE | SKYPE | FOLLOW US ON TWITTER |
Related posts:
The Best Skype Phones
Skype Comes to the iPhone
Play Music, Wirelessly, Throughout Your House
Canon 40D vs 50D
Turn Your BlackBerry Into A Universal Remote Control
MagicJack for a Cell Phone

Questions? Comments? Call upon our comments section: