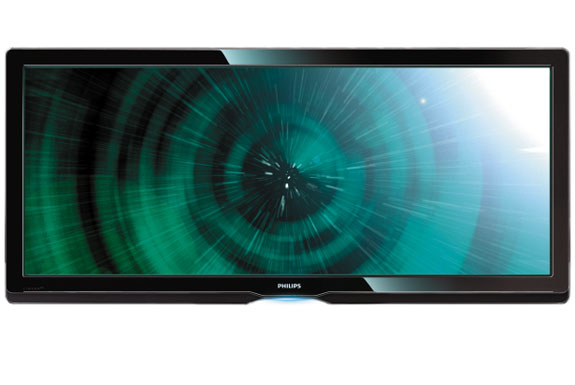 We love HDTV not only because the picture is superior to the old fashion television sets but because of the wider 16:9 aspect ratio of the screen. Which is why one upcoming television has really caught our eye: The Philips Cinema 21:9.
The "21:9″ in the name refers to the aspect ratio of the screen, wider than your typical wide-screen HDTV. The increased screen width is significant partly because, well, wider is better. The average person's peripheral vision takes in a 140 degree view from side to side. The more a TV screen is able to match that the more true-to-life the viewing experience will be.
More importantly though, most movies are filmed at a 21:9 screen-size aspect ratio. When you watch a movie in a theater, the picture you see is 21:9. And so, ideally, to get the full cinema experience at home on your TV it should have a 21:9 screen too.
The new ultra-wide Philips HDTV set will be available in western Europe starting this spring, the United States sometime after that. Initially there will be no media available to take full advantage of the full screen width. Watch a Blu-ray disc on the Philips 21:9 and you'll either have to zoom in (and cope with the corresponding loss of resolution) or you'll see letterboxed black bars and both sides of the picture (which rather ruins the point of having the wider screen to begin with). Eventually, though, movie discs may be available with a true 21:9 picture. Further off into the future, TV could be broadcast at 21:9 too.
The future of ultra-wide HDTV will depend upon other manufacturers producing sets with that screen size. And consumers buying them. To us, the Philips Cinema 21:9 seems a pretty good start.
LEARN MORE | BUY AN HD TV | FOLLOW US ON TWITTER |
Related posts:
The Best Inexpensive HDTV Sets
Watch Your Home TV From Virtually Anywhere
The Top Blu-Ray Players Revealed