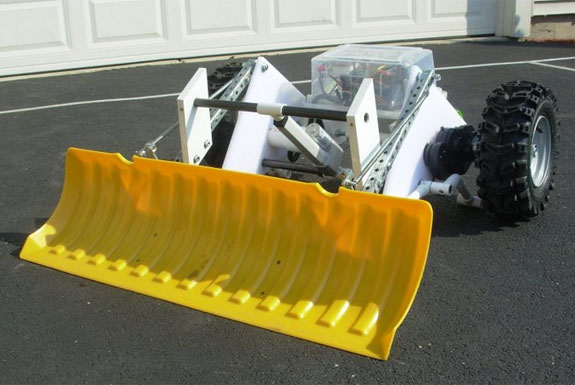 It is snowing outside our office windows here at Spot Cool Stuff. We are inside and cozy now, typing these words to you fine people and nursing a warm cup of tea. But we know it is only a matter of minutes before we dig out a warm hat, attempt to find matching gloves and walk into the wintry outdoors to clear the snow off our driveway.
Today would be a perfect day to have an I-Shovel.
The I-Shovel is an automatic snow shoveler that works along the lines of other personal robots such as the Looj gutter cleaner and the Rumba vacuum. You set an artificial boundary around your driveway area that you'd like to have automatically shoveled. The I-Shovel sits in dormant mode until it senses that an inch of snow has fallen, at which point it automatically gets to work shoveling the area you outlined.
Sadly, the I-Shovel is currently only in concept mode. Spot Cool Stuff has not used a prototype and all we've seen of it in action is the video (below). Regular readers of our product reviews know that we always remain skeptical about a product until proven otherwise. How well will the I-Shovel handle hills, we wonder. What about driveways that are less-than-perfectly paved? What about curved driveways?
We will say that are are impressed with much of the thinking that has gone into the prototype. The I-Shovel senses the moisture in falling flakes and responds more quickly to wetter, harder to shovel snow than it does to powdery snow. Each other the I-Shovel's two wheels are powered by a dedicated motor, so if one wheel gets stuck the other wheel can maneuver free. And the batteries on the I-Shovel should be powerful enough to plow the average sized driveway 12 times without a recharge; if the I-Shovel calculates that it can't keep up with a heavy snowfall it will automatically reduce the area it shovels to a manageable size.
No word on when the I-Shovel will be ready for sale. Sadly for us, the I-Shovel is not likely to be available in the next 10 minutes.
LEARN MORE | FOLLOW US ON TWITTER |
Related Posts:
Sledding Becomes Cool Again
The Erector Spykee Transforming Spy Robot
Snow & Ice Travel