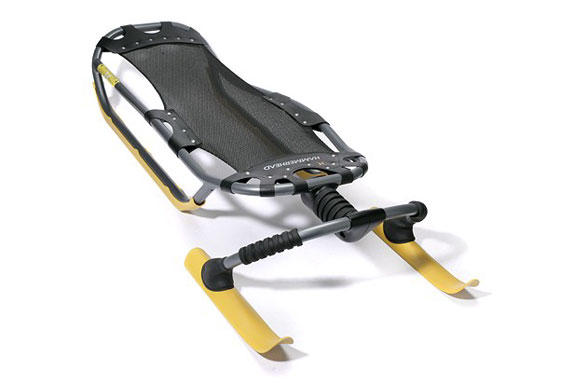 As a kid we used to sled on a wooden Flexible Flyer. As a college student we used sled on food trays we, um, "creative acquired" from the school cafeteria. That's what sledding was like back then. This is sledding today:




Compared to those sleds of yesteryear, the Hammerhead is a precision machine. In fact, the Headmerhead recently won a design award from Industrial Designers Society of America
The Hammerhead's dramatically increased control is the biggest difference between the experience offered by this sled and an old fashion one. On a Hammerhead you guide the sled through a combination intuitively shifting your weight on the sled's ergonomic body and steering with the two mini-skis at the sled's front. It is so easy to use that your kids (or you!) will be making sharp, controlled turns from your very first Hammerhead run. On this sled one can fly through a slalom course in a way similar to a skier. The sense of control you have flying down a hill on a Hammerhead is exhilarating!
The Hammerhead is also relatively light—9.7 lbs (4.4kg) that's balanced across the length of the sled making it easy to carry. The reduced weight, along with the sled's soft edges and shock-absorbing materials, make the Hammerhead much safer than your average sled too.
Two more features we especially like: The runners under the Hammerhead's body can be swapped out to allow the Hammerhead to work well in all sorts of snow conditions (including deep, powered snow). And because the sled's steering bar is similar in diameter to a bicycle handle it is easy to attach bells, horns, headlights, mirrors and other bicycle accouterments onto a Hammerhead.
So, leave those food trays where they belong in the cafeteria. The Hammerhead makes sledding cool—and fun—again.
updated: Dec 2009

LEARN MORE & BUY | FOLLOW US ON TWITTER |
Related posts:
The Snow Shoveling Robot
10 Great Gadget Gifts For Under $100
Ride Like (A Virtual) Tony Hawk
The C-Quester Personal Submersible
Have Wood Burning Dutchtub Spa Will Travel
The Best Cameras for Travel