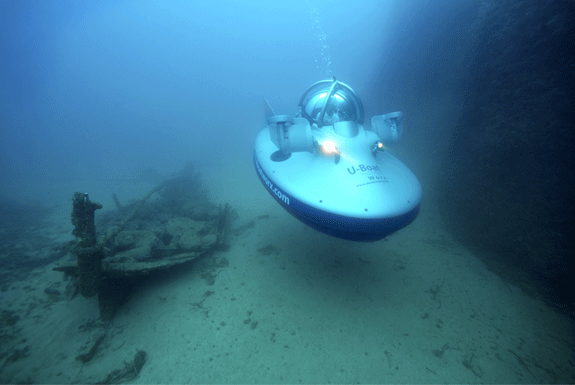 How much to we want one of these! Our inner Jacques Cousteau gawks at the C-Quester, the only (relatively) affordable submersible boat designed for recreational, as well as commercial, use.
There are two models: the one-person CQ1 and a two-person version called, logically enough, the CQ2. Both are capable of surface and underwater speeds of about 3 knots, both can descend to a depth of 50 meters and have the operational capacity for a 2 1/2 hour dive, though as a safety feature both can provide up to 36 hours of life support. The CQ1 weighs around the same as a small subcompact car (2400 lbs, 1100 kg) meaning it can transported and launched without any special equipment. And the design simplicity and boat-like qualities of the C-Questers mean that you don't have to be a graduate of the Naval Acadamy to learn how to operate one.
The manufacturer of the C-Questers, the Dutch company U-Boat Worx, runs a comprehensive four-to-six day training course. The course is also open to enthusiasts like us who don't have the $120,000 (€80,000) to buy a C-Quester . . . yet.
LEARN MORE | FOLLOW US ON TWITTER |
Related posts:
Become The Dolphin: The Seabreacher Semi-Submersible
The Best Waterproof Case for the iPod and iPhone
Tips & Tricks For Finding Cool, Yet Inexpensive, Cruises
8 Highly Unusual Items You Can Buy on Amazon.com – really!