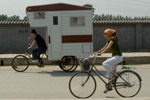 spot cool stuff TECH
You wouldn't want to pedal very far with one attached to the back of your bike. And you definitely would want to avoid hills were you to try. But, man, would you be styling once you reached your destination. That's because, with a Bike Camper in tow, you'd have a bed, television, couch and kitchenette with you.
A bike camper, sadly, can not found for sale at any of the world's best bicycle stores. Instead, each is a "working sculptures"—pieces of art that are fully functional but that are built to be admired more than used.
---