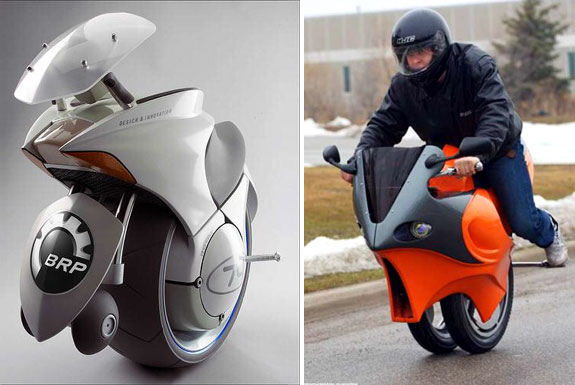 Compared to a car, a motorcycle is cheaper and more energy efficient. That's what happens when you cut the number of wheels in half, from four to two. But what if you cut the number of wheels in half again, from two to one?
A decade ago the idea of a motorized unicycle might have been the subject for a gag article on The Onion. Even if it were possible to keep balanced while riding a motorunicycle it wouldn't be possible to go much faster than walking speed (or to turn, or to stop) without falling down.
Then the Segway personal transporter came along. The Segway showed how gyroscopes can be used not only to maintain balance on a moving object but to control it through shifts in the rider's body weight.
Here's a look at two motorunicycles. Or at least they appear to be motorized unicycles at first glance. In fact, each makes use of an additional wheel (though in different ways). And neither makes use of a traditional combustion engine.




The Embrio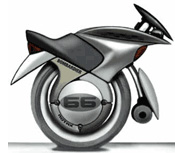 The Embrio is the concept design of Montreal-based Bombardier Recreational Products, a company better known for its ATVs, jet skis and snowmobiles. The idea is to have a hydrogen fuel-cell power this one-wheeled wonder. Or, at least it is one-wheeled when traveling over 20 km/h (12 mph). Under that speed, or when the vehicle is at a complete stop, a smaller front wheel comes down like the landing gear on an airplane (see photo below). This front wheel helps with braking and stability but isn't necessary for balance—as on a Segway, the gyroscopes on the Emrio keep the vehicle upright on it's one large wheel.
The Embrio concept model was constructed of high-tech materials—mostly Polypropylene and Santoprene with a magnesium casting. The acceleration is controlled by a trigger on the handlebar; the steering is controlled entirely by shifting body weight. The maximum speed is estimated at 60 km/h (37 mph). Bombardier engineers are still working on how to use the Embrio to pop a wheelie.
GO TO THE BOMBARDIER WEBSITE |

The Uno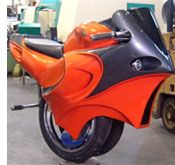 What's most impressive about the Uno compared to the Embrio is that the former isn't the product of some corporate R&D division. The Uno is the brainchild of Ben Gulak, who at age 19 developed his own motorized unicycle. Although, technically, Gulak's Uno does have two wheels. They are side by side, about an inch apart. This two wheel system helps greatly help with stability—when the rider leans into a turn, the outer wheel lowers and the inner wheels lifts, keeping a consistent proportion of each tire on the ground.
Gulak build the Uno upon a (very) modified Yamaha R1 frame. He ditched the Yamaha's gas engine, though, and replaced it with an electric engine one which, Gulak estimates, could give the Uno a top speed of around 40 mph (64 km/h). That's an estimate because Gulak himself has never taken the vehicle over 15 mph. As with a Segway, the Uno's steering and acceleration is controlled entirely by the rider shifting body weight. There's no steering wheel. There are no brakes. Until it is perfected we wouldn't want to take the Uno over 15 mph either.
SEE GULAK'S UNO FACEBOOK FAN PAGE |
Related posts:
8 Alternative Powered Motorcycles
Derringer Motorized Bicycle
Bergmönch: The Backpack-Scooter Transformer
Terrafugia: Flying Cars Ready For Take Off
8 Highly Unusual Items You Can Buy on Amazon.com – really!




Bombadier Embrio

The Uno