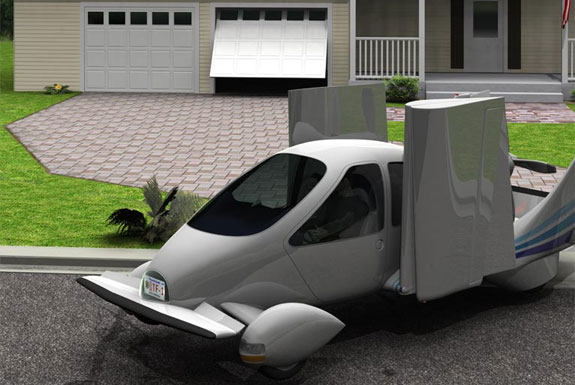 The reality in 2009 is not the future people envisioned in the 50s, 60s and 70s. Where's our colony on Mars?! Where's our talking robots that will do all our household chores? Where's our flying cars?!
We're still far off from building a city on another planet. The closest we've coming to affordable chore-performing robots are the Looj and Rumba. But the flying car is no longer science fiction.
Terrafugia, a start up in Massachusetts, U.S.A., is currently road and air testing the Transition. Billed as a "roadable aircraft," the Transition is close to becoming the first vehicle to be both street legal and receive certification as a light sport airplane.
As a car, the Transition is a front wheel drive, has been tested at speeds up to 90 mph (145 km/h) and gets about 30 miles per gallon. Once the wings have been electronically folded up the Transition can fit into most standard household garages. Making a shopping run or hitting the slopes? The Transition's storage area is long enough for a pair of skis and roomy enough for dozens of grocery bags.
As an aircraft, the Transition cruises at 115 mph (185 km/h) and can fly as slow as 50 mph before stalling out. It needs a mere 50 feet of runway space to take off, has a range of nearly 500 miles and, in case something goes horribly wrong, there's a full vehicle parachute.
Regardless of the mode of transport, the Transition is fueled by the same unleaded gasoline used by your typical earth-bound car. Though we expect that Transition owners would look rather conspicuous standing at a neighborhood gas station as they fill their roadable aircraft's 20-gallon tank.
For a refundable $10,000 deposit you can, today, reserve your Transition for an anticipated 2010 delivery. At that point you'll need $194,000 to buy one of these flying cars outright.
You'll also need a sport pilot license to operate a Transition. (Terrafugia will be offering Transition-specific courses that can qualify you for a license after 20 hours of flight time).
This licensing requirement—along with regulations requiring Transition owners to take off from an airport and not from, say, an empty section of the Wal-Mart parking lot—has lead some to see the Transition less as a flying car and more as a glorified aircraft. Maybe so, but we think it's a major step in that direction.
Imagine some one who lives in Palo Alto, for example, but works across the Bay in Oakland. This person could use the Transition to drive from a private residence to a nearby airport, take off, fly over all the car-clogging Bay Bridge, and land at an airport near the Oakland office. That's an hour or more commute by car versus maybe 15 minutes with the Transition.
Further, future versions of the Transition may include under-vehicle thrusters that would allow the car-plane to take off vertically. And maybe that will lead to the creation of "air highways" and, perhaps, take-off sections of Wal-Mart parking lots.
At the very least, the flying car looks to us a lot closer to reality than our colony on Mars. Share your own thoughts in the comments section, below.
LEARN MORE | TERRAFUGIA ON YOUTUBE | FOLLOW US ON TWITTER |
Related Posts:
Aptera Electrifies The Race For The Car 2.0
My Own Private Nuclear Power Plant
The Truly Universal Plug Adapter
Priority Pass – Access Airport Lounges (Even Flying Economy)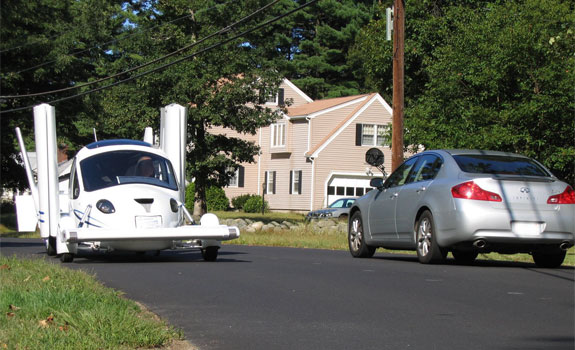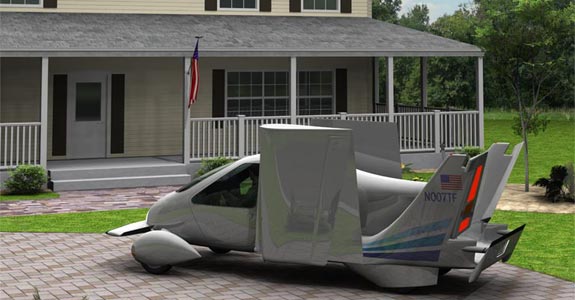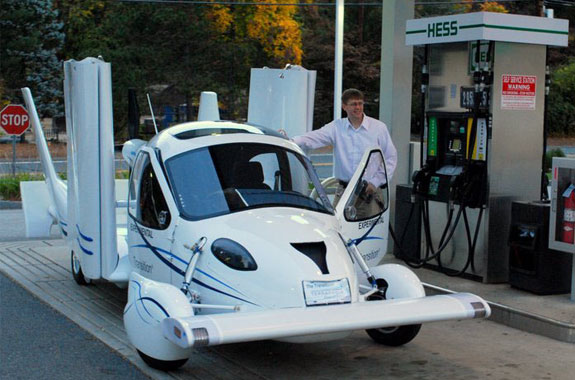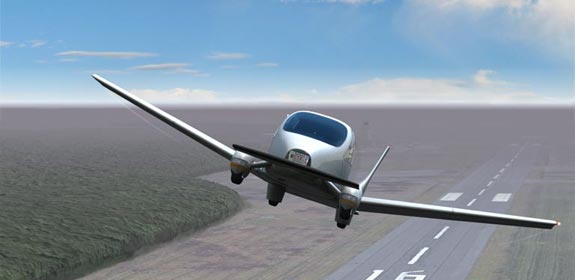 LEARN MORE | TERRAFUGIA ON YOUTUBE | FOLLOW US ON TWITTER