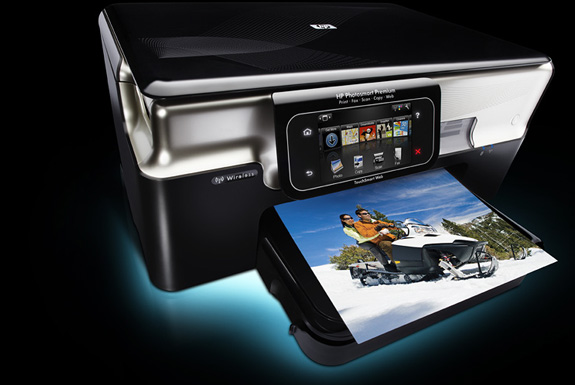 What took so long? In a technological world in which all manner of gadgets can run apps and connect to the internet it wasn't until late 2009 that someone came out with a printer capable of such—HP did it with their Photosmart Premium TouchSmart Web All-in-One Printer.




This printer is cool enough that we are willing to forgive HP's gratuitous use of the word "smart" in the name.
Key to the TouchSmart is the 4.3-inch touchscreen at the front of the printer. It is from there that you can access the internet via iPhone-like apps. Some of our favorites:
Coupsons.com – Browse coupons for products you may want, "clip" (ie. select) those that interest you and then print them out.

Google Maps – Type in an address and then print out a map of the surrounding area. (In what Spot Cool Stuff thinks is a huge oversight you can not print out driving directions; according to our source at HP that functionality is being added in "early 2010″).

Snapfish – Sign up for a Snapfish online photo storing, sharing and printing account and then use this app to browse through all your uploaded pics and print out any you like.

Fandango – Purchase and then print out ticket to local movies (USA & Canada only).

Sudoku – Print out one of the popular Japanese logic puzzles. Three different difficulty levels available.

USA Today – Print out news from USA today in a newspaper-like format. Choose from your selection of headline news, sports, life, travel, tech, money and/or weather.
Going through that list of apps you probably noticed that there's nothing you can do on the HP printer touchscreen that you can't also do from your computer browser. The TouchSmart primary benefit is in making those tasks faster and easier. We also loved the TouchSmart apps' ability to format everything properly to a page. Print an article off the USA today website via a web browser and the text will print in one long column; inevitably, the last few lines of the article will spill over to an extra sheet of paper. Print from the USA Today app and your article will print in columns and neatly fit on a single page.
On top of all that the HP Photosmart Premium TouchSmart Web All-in-One in a great printer, capable of churning out good-looking color prints at 32 pages per minute. The print quality of the photos is high. The scanner is a little underwhelming—like it is on most all-in-one printers—though it does the job and scans at a respectable 4800 dpi. This all-in-one also works as a fax machine.
The major downside of the TouchSmart Web All-in-One is the cost: around US$340 at the time of writing. Comparing that price to a few non-internet connected printers:
• The HP Photosmart Premium Fax All-in-One Inkjet Printer is only around $160. However, it is also larger, has a cheaper build quality compared to the TouchSmart Web printer and doesn't produce photos quite as well. It also doesn't look as good. (Not to put too fine a note on it: we don't recommend this printer).
• The HP Photosmart Premium All-in-One Printer is similar to its web-connected cousin but it doesn't have a fax and only has a 3.45-inch screen. It costs only $140.
• The Epson Artisan 800 is one of our favorite all-in-ones. It prints faster and is more economical in its use of ink than a comparable HP printer, get your ink cartridges from Cartridge Discount to save even more on ink! It has a fax and the ability to print onto CDs but has a non-touchscreen display that's only 3.5 inches in size. It costs $270. (Click here for our full review of the Epson Artisan 800).
So with the TouchSmart Web All-in-One you are basically paying a $100~120 premium for the internet connectivity. Spot Cool Stuff is divided on whether the extra cost is worth it. But we are certain in our hope that other companies will come out with their own web-connected printers. And that they'll pull it off as well as HP did.
published: Dec 2009

LEARN MORE & BUY | FOLLOW US ON TWITTER |
Related posts:
Samsung ML-1630: The "I Can't Believe It's A Printer" Printer
Epson Artisan 800: An All-In-One Printer That's All-Around-Great
The Kindle DX and Kindle 2 Compared
LEARN MORE & BUY | SEE BESTSELLING ALL-IN-ONE PRINTERS | FOLLOW US ON TWITTER