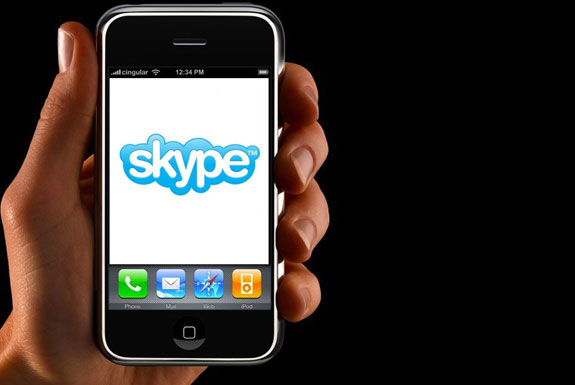 A few weeks ago we reviewed the best Skype phones. There's now a new phone to add to that list: Apple's iPhone.
Thanks to a new app you can now make phone calls via Skype from an iPhone exactly as you would from a computer.
What's so great about being able to do that? It means you can call (or text message) with any Skype user, anywhere in the world, from your iPhone for free. It also means you can call via Skype to any regular phone, either cell or land line, for the same low rates you would pay calling from your computer.
And here's the coolest part: If you have a Skype subscription plan it applies to your iPhone as well. So, if you have the $2.95/month Unlimited U.S. & Canada Plan or Skype's $9.95/month Unlimited World Plan that unlimited calling extends to your Skype iPhone calls too.
It is important to note that Skype calls are made over the internet not over a cell network. Only when you are in a wireless hotspot can you make Skype calls on the iPhone. So, this new app probably won't let you ditch your mobile phone service provider.
The app itself is extremely well designed, with an intuitive interface and easy syncing with your Skype account. You can even attach photos to your Skype contacts on your iPhone. And, best of all, the app is free. Download it from the Apple website.
SKYPE | DOWNLOAD THE SKYPE APP FROM APPLE | iPHONE & ACCESSORIES
Related posts:
The Best Skype Phones
MagicJack vs Vonage vs Skype
Ooma – can it replace your landline phone?
Kindle – ebook reading device




SKYPE | DOWNLOAD THE SKYPE APP FROM APPLE | iPHONE & ACCESSORIES