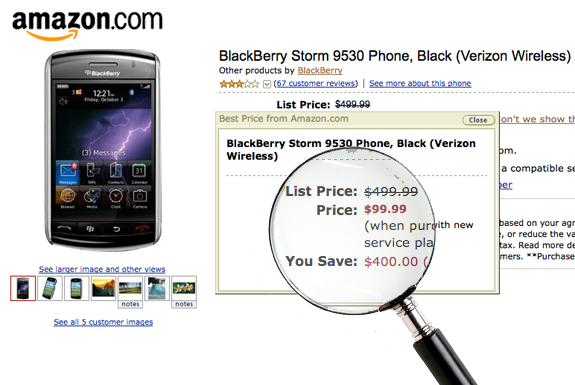 It didn't take long for the latest BlackBerry (and iPhone competitor) to sell at a deep discount. If you sign up as a Verizon customer you can now get yourself a BlackBerry Storm 9530 from Amazon.com for $100! That's an 80% discount over the regular $500 price.
The Storm is the first BlackBerry with a touch screen. We are huge fans of its 3.2-megapixel camera and built-in GPS. After a much needed firmware update, the Storm runs more smoothly than it did immediately following its launch.
As a phone, we prefer the Storm to the iPhone—the Storm is more comfortable to hold to your ear and generally produces better sounding calls. The Storm's bright screen out-dazzles the iPhone's too.
That said, we found it difficult to use the Storm without longing for the physical QUERY keyboards of previous BlackBerry models. We've been BlackBerry users for nearly as long as the company has been in business and perhaps we've become BlackBerry purists during that time. In any case, we personally prefer the BlackBerry Curve to the Storm.
There's also no denying that the iPhone is more "fun" and can run a wider range of applications. We'd also choose the iPhone's intuitive user interface over the Storm's.
But if you are looking for a cell phone that mixes the multimedia aspects of the iPhone with the easy email functionality of past BlackBerry models then the Storm is the perfect Middle Way. And for $100 it is hard to get a smart phone this great for this cheap.
GET THE BLACKBERRY STORM DISCOUNT | FOLLOW US ON TWITTER |
Related posts:
Turn Your BlackBerry Into A Universal Remote Control
MagicJack vs. Vonage vs. Skype
date: 9 Feb 2009




GET THE BLACKBERRY STORM DISCOUNT | FOLLOW US ON TWITTER |