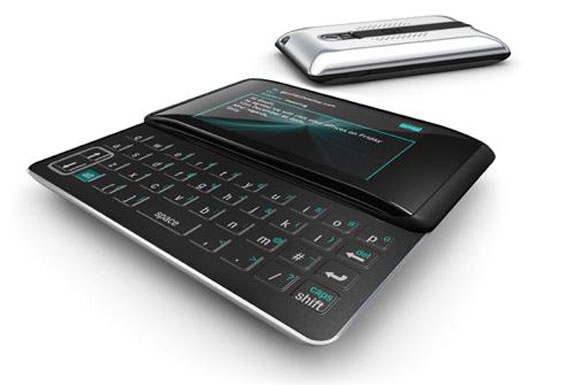 Typically, smartphones are first designed by engineers, then marketed by electronics companies and then reviewed by magazines and by tech websites such as Spot Cool Stuff. The gadget blog T3 is striving to shuffle those steps around.
T3′s began with tech journalists writing reviews of the perfect smartphone. Then T3 invited its readers to contribute ideas. Then they handed the specs for their perfect smartphone to The Alloy, a design firm that has developed products for the likes of Toshiba and Intel.
The object of this ambitious project, the 01 Phone, is currently no more than a concept. But the prototype photos, along with the 01phone's hoped-for specs, are too cool for us not to blog about.
The idea is to have nearly whole of the top of the 01 Phone be a large touchscreen a la the iPhone. The touchscreen uses a unique stylus with two points that can be used to rotate or zoom in on images, for example.
The 01′s touchscreen top would slide back to reveal a keyboard with rubberized overlay. Which brings us to one of the coolest, and most creative, planned features on the 01: The keys would change color and layout depending on what app you are using at the time. (Check out the video link, below).
On the back of the 01 Phone the idea is to have an 8 megapixel camera and a "high output" speaker. There may also be little slots to house a pair of earbud headphones.
So, will the 01 Phone ever be built and sold?
It is hard not to be at least a little skeptical. On the other hand, the technology to make this phone exists. Indeed, the 01 Phone isn't that far removed from the excellent, and very real, HTC Touch HD. Besides, how can you not make a product when the reviews of it have been so possitive?
LEARN MORE | VIDEO INTRO FROM T3 | THE HTC TOUCH HD |
Related posts & pages:
The Best Skype Phones
1 Part Cell Phone, 1 Part Camera
Spot Cool Smartphones
The iRing: J.R.R. Tolkien Meets Apple



LEARN MORE | VIDEO INTRO FROM T3 | THE HTC TOUCH HD | FOLLOW US ON TWITTER