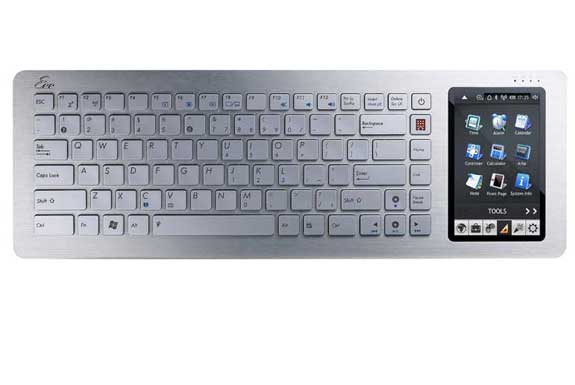 Here's a product we're sure to be writing a full review for after it comes out in late May or early June: The Asus Eee Keyboard PC. As in, a keyboard that's also a PC. Not a keyboard for a PC.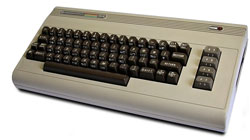 The idea of a keyboard that houses the motherboard and circuitry of a computer is not a new concept. It goes back to the start of the personal computer. The Commodore 64, to this day still the world's best selling computer model (!), offered a keyboard computer back in 1982.
Of course, the Commodore 64 didn't have the 32GB SSD internal drive, the Bluetooth 2.0 technology, the 1.6Ghz processor or the 1GB of RAM that the Asus Eee Keyboard PC has. And the Commodore certainly didn't have the Asus's sleek 2 pound (900g) frame.
What's really new about this keyboard PC, though, is the way it is designed to be the heart of a multimedia center. Using Ultra Wide Band technology via HDMI this keyboard PC can interface with an HDTV set. Theoretically, you should be easily able to switch between operating this keyboard PC on a computer monitor and using it on your HDTV set without leaving your chair. You could also use this keyboard as a DVR, recording video on the hard drive and playing it back, wirelessly, on your TV.
Technically, you don't even need an external monitor. The Asus Eee Keyboard PC has a built-in 5-inch touchscreen to the right of the keyboard. A 5-inch diagonal viewing area is too small to run most windows applications, of course. But it the perfect size touchscreen to for a television remote or to control the play of MP3 music files.
The Asus Eee Keyboard PC is expected to cost between US$400 to $600, which is the exact same price range that the Commodore 64 sold for in the 80s. Coincidence? We think not.
[price & launch date via Register Hardware]
BUY ASUS GEAR | FOLLOW US ON TWITTER |
Related posts:
$350 Lightweight Laptop Showdown: Acer vs Asus
The Shuttle D10 — The Cool Media Center That Happens To Be A PC
The Best Inexpensive HDTV Sets
Sonos- Play Music, Wirelessly, Throughout Your House



BUY ASUS GEAR | FOLLOW US ON TWITTER