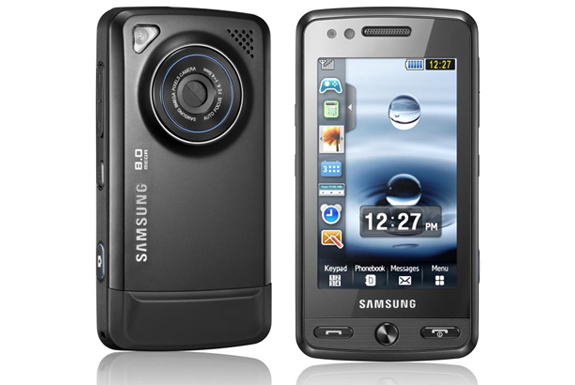 The Samsung Memoir T929 might be the first device that is equal parts camera and cell phone.
The phone is due to be sold by T-Mobile USA, already the service provider to many of the best camera phones on the market. We especially like the excellent 5-megapixel camera on the Motorola Zine ZN5. Now T-Mobile is topping that, at least insofar as megapixels are concerned, with the 8 megapixel camera on the Memoir.
As a camera, the Memoir features a Xenon flash, 5 shooting modes and 16x digital zoom. On the back of the device is a 240×400 pixel touchscreen, a pretty decent size for previewing photos. Especially cool is the photo widget that lets you post your snap shots directly to online photo sharing sites like Snapfish and Flickr. Such downloading can be done over T-Mobile's 3G network.
Unfortunately, the Memoir does not have wireless internet in the introductory model. That alone will probably keep the Memoir from being a direct competitor to the iPhone or wifi-capable Blackberry models.
The Memoir does have a built in GPS as well as Bluetooth and a microSD expansion slot that can accommodate a card up to 16GB. The phone's touchscreen uses T-Mobile's TouchWiz interface that includes a QWERTY keyboard (similar to the iPhone). The entire unit weighs 4.5 oz (125g) and has a battery life that allows for 8 hours of talk time.
T-MOBILE USA | T-MOBILE WEB-ONLY OFFERS | FOLLOW US ON TWITTER |
Related posts:
Megapixel to Print Size Ratio
The Best Ultra-Compact Digital Camera
Why The Olympus Evolt E420 Should Be Your First Digital SLR

T-MOBILE USA | T-MOBILE WEB-ONLY OFFERS | FOLLOW US ON TWITTER |