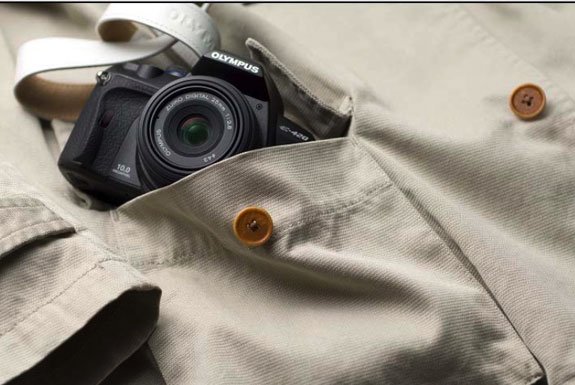 Until now you've used exclusively auto focus point-and-shoot cameras. You'd like to move up to a "real" digital camera with a removable lens and the capability to make manual settings. But maybe you are a little nervous about making this change to a manually focusable digital SLR.
Or, you already own a digital SLR but are looking for a second one to use as a knock around camera, a camera to bring with you on a trip when you want to leave your "good" camera at home, for example.
For both of those cases—for the novice photographer looking for that first digital SLR camera or for the semi-professional looking for a complimentary second (or third) camera—the Olympus Evolt E420 is the perfect choice. Let us count the reasons why:

The smallest digital SLR on the market. The E420 is not as small as an ultra-compact point-and-shoot; the E420 won't slip unobtrusively into a shirt pocket. But it will easily fit into a coat pocket or handbag, making the E420 easier to travel with and carry around than any other SLR currently available.

An incredibly good deal! Currently around $400 through Amazon (which equals or beats any other price we could find on this camera). And for that price you get a decent 14-42mm wide angle starter lens. People who think they need to $1000+ on a quality SLR camera are wrong.

Near-superb photo quality. Look at the 10 megapixel photographs produced by the Evolt E420 and you would never think they could come from a camera this small and inexpensive. The E420 is especially impressive in low light situations (using the noise filter you can shoot quality images at 1600 ISO). It also takes wonderful close-up shots in the macro mode—check out some sample pics taken with the E420, below.

Easy to use. In automatic mode, the Evolt E420 behaves very much like a point-and-shoot camera. Even if you've never used a digital SLR before you'll be able to start right into taking photos with the E420 without reading the instruction book. And the same time this camera has . . .

All the manual functions a semi-professional photographer would want. If you are an experienced SLR user you'll be pleased with the E420′s array of manual settings. In fact, the E420 has a range of manual auto focus, RAW and JPEG settings not available on most much more expensive cameras. This is good news for novice photographers too—as you increase your photography skills you won't outgrow the E420.

Great feel. This is a quality hard to quantify but so important to choosing the right camera—how it feels. There's something about the E420 that just feels right. It has a solid build and is comfortable to hold.

Supremely good value. It is worth stressing this point again. No SLR on the market provides as much photographic quality for the money.
As with every camera, there are downsides to choosing the E420. The quality of the photographs is a notch below what you'd get with the Canon 40D or 50D, for example. Of course once you factor in the cost of a reasonable lens you'll spend more than twice as much on a Canon 40D than you would on a Evolt E420. We also are less-than-impressed with the E420′s flash (though it is still better than most point-and-shoots). We also find the E420′s viewfinder a bit small (though the ability to use the screen's live view mostly makes up for that).
Add up the pros and cons and the Olympus Evolt E420 comes out hugely on the pro side. If you are looking for your first digital SLR, buy this one with confidence!
LEARN MORE & BUY | SCREEN PROTECTORS | FOLLOW US ON TWITTER |
Purchase locally in: USA | THE UK | GERMANY | FRANCE | JAPAN
Related posts:
Best Backpacks for Cameras (and Laptops)
5 Cool Photoblogs
Nikon D80 vs D90 vs D300
Send Your Photos As Postcards











A Few Sample Evolt E420 Photographs:
LEARN MORE & BUY | PURCHASE SCREEN PROTECTORS | FOLLOW US ON TWITTER

The post is open to comments: