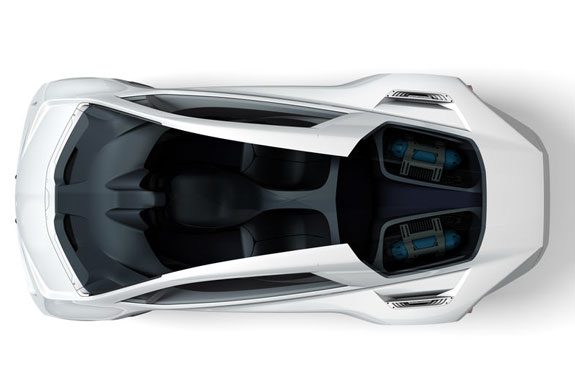 Most concept cars—and all of the bizarre and purposely "futuristic" looking ones—never seem to become production models. Which is why we feel confident predicting that the Honda FC Sport, unveiled in concept form at the 2008 Los Angles Auto Show, will never be sold in any showroom. Headlines touting this as "The Car Of The Future" strikes us enormous exaggerations.
But what's noteworthy about the hydrogen-powered FC Sport concept car is that, while the car design is a concept, the "hydrogen-powered" part is real. The FC Sport's hydrogen technology is being used today in a car that is available in a showroom: The Honda FCX Clarity sedan (see photo, below).
The hydrogen powered Clarity is currently being leased by Honda to select drivers in California for $600 a month. The sedan drives very much like any normal car. The 171-horsepower Clarity goes from 0 to 60 mph (96 km/h) in about 9 seconds and can travel about 270 miles (435 km) between refills. Its just that, instead of refilling the Clarity with gasoline one refills it with hydrogen. The hydrogen then powers fuel cells that produce electricity. The electricity is stored in lithium-ion batteries until the power drive unit needs that energy to propel the car.
There are several advantages to running cars on hydrogen instead of gasoline. Hydrogen is more efficient—the full-sized Honda FCX Clarity sedan gets the equivalent of 58 mph (eg. uses 4 liters per 100km). Hydrogen is also non-polluting (the byproduct of the fuel-cell energy production is water) and is processed from natural gas, not oil. There are currently a handful of working hydrogen filling stations in the United States—in California, New York and Washington DC—as well as in Japan, England and China.
Which brings us back to the FC Sport, with its fuel cell stack between the two rear seats and its hydrogen tanks above rear axle. This point of this concept car is not really about showing off unusual/cool design sensibilities (although it does that too). The point is to show how the technology that powers the Clarity, a typical family sedan, could be used to power a more sporty fun-to-drive vehicle.
Eventually, some alternative is going to replace today's gasoline-powered cars. We are not sure that hydrogen is going to be that alternative. But Honda's FC Sport is another step in that direction.
LEARN MORE ABOUT THE CLARITY | FOLLOW US ON TWITTER |



This post is open to comments: