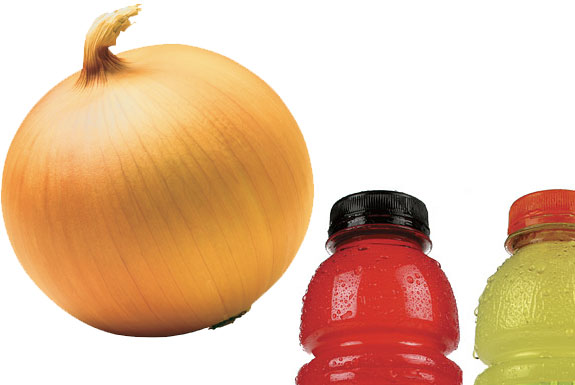 No, we didn't mis-categorize this post. Onions and all sports drinks containing electrolytes (such as Gatorade) are indeed iPod accessories.
And yes, we mean a real, actual, everyday onion. This isn't some sort of clever reference to the humor magazine The Onion.
To charge an iPod with said onion and sports drink you needn't be MacGyver or have any special power cord or special equipment. The normal USB cord that comes with the iPod will work fine. A typical onion and a cup of sports drink will get you around 15 to 20 minutes of power.
For specific instructions check out the video after the jump (and try to ignore its creepy music):
BUY AN iPOD | FOLLOW US ON TWITTER
Related posts:
Best Waterproof Case for an iPod or iPhone
The Best Noise Canceling Headphones
Great Deal: The JBL On Tour Portable Speaker System
Copy Songs, Files Between iPods with a miShare
The Best Sounding Single-Unit iPod Speakers