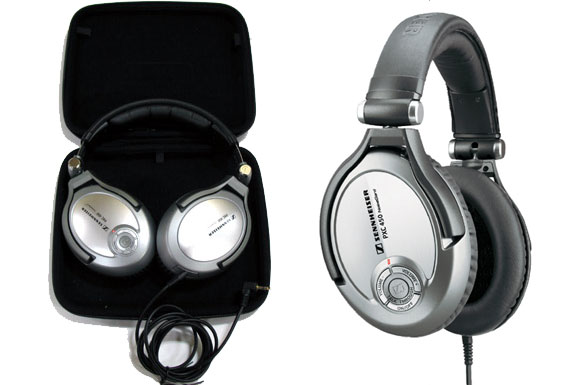 Most audiophiles know the value of noise canceling headphones, which shut out large portions of the background sounds leaving the headphone wearer to experience the purity of their music.
Airplane travelers who have used noise canceling headphones know of their benefits too. The loud drone of the airplane engines is one of the major factors leading to flight stress and jet lag. Noise canceling headphones (even without playing any tunes through them) shut out most of the harmful aircraft noises thus helping travelers land at their destination feeling more relaxed and awake.
But what most of those people don't know is that the best noise canceling headphones are not made by Bose, contrary to what their marketing campaign would have you believe. The Bose Quiet Comfort 3 are very good headphones. An even better pair of noise canceling headphones is. . .




The Sennheiser PXC 450 NoiseGard
Here are a few of the advantages of the PX 450 over the Quiet Comfort 3:
• Noise Canceling Quality. Sennheiser has the superior active noise canceling system (that is, the Sennheiser eliminates noise through electronic means better than the Bose). The difference is rather large at lower frequency noises such as airplane engines, much less so with higher pitched noises. The Sennheiser also does the better job keeping out unwanted noise simply by fitting more snugly around your ears. Which brings us to . . .
• Comfort. The Sennheiser PXC 450 headphones are more comfortable to wear than the Bose QC3. It is unlikely you'd notice the difference after trying each on for a few minutes. But after an hour, the QC3 pinch the top of your ears and start to feel uncomfortably hot. The advantage of the PXC 450 headphones is that they are padded on the inside (see photo below). If you want to sleep on an airplane wearing one of these headphones you'd to better with the Sennheiser.
• Music Quality. The clarity of sound produced by the Sennheiser is unbelievably good. The PXC 450s are the best sounding headphones we've heard, noise canceling or not.
The Bose Quiet Comfort 3 has a few advantages too. They produce a better base sound than the Sennheiser PXC 450, though the difference is not likely to be significant to you unless you are really into base heavy music. The Bose QC3 headphones are also smaller when on your head, though both headphone fold up into roughly the same sized case. Both headphones also cost roughly the same (around $350).
Add the all up, we are prepared to call the Sennheiser PXC 450 headphones the best on the market today.
BUY SENNHEISER PXC 450 | BUY QuietComfort 3
Related posts:
The Headphones With A Monstrous Beat
Western Digital WD TV: Turn Your USB Drive into an HD Media Player
Microsoft's Wireless, Wonderful Arc Mouse
How To Charge An iPod With An Onion, Sports Drink
8 Free Websites For Expanding Your Music Horizons