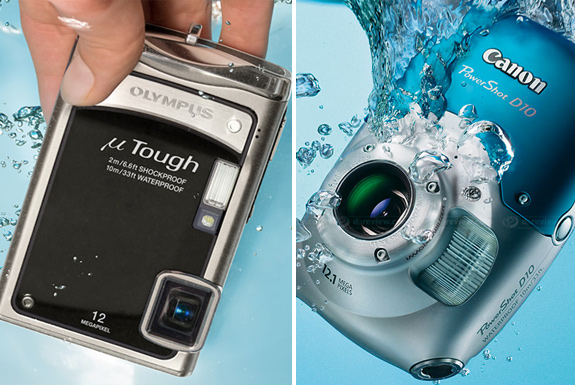 Life can be rough if you're a digital camera. Especially if you are an ultra-compact that gets totted along to the beach and on ski trips, slung into purses, thrown into bags, stuffed into pockets and/or treated less-than-gently by young children.
We recently previewed the Canon PowerShot D10. Since then Olympus launched it's Stylus Tough-8000. Both digital point-and-shoots are waterproof, compact and capable of taking a beating. But which of these two excellent models are best for you?




That question can be quite the dilemma for water-bound point-and-shoot photographers. The PowerShot D10 and the Stylus Tough-8000 are similar in many regards, including price, megapixels and battery life. Here's an overview of some of the similarities—and differences:
✔ = slightly better, ✔✔ = somewhat better, ✔✔✔ = much better

So what does that all mean?
There are lots of ways to parse the data in that chart but for Spot Cool Stuff our advice comes down to this:
If you are looking to buy a waterproof ultra-compact as your only/primary digital camera then the
Canon PowerShot D10 is the clear choice. The image quality compared to the Tough-8000, especially in high ISO (eg. low light) situations, makes it too good to pass up. And if you shot a lot of video the D10 is the runaway winner. (The audio quality when shooting video—even underwater!—is amazingly good for a camera of this size and price).
That said, there are at least two circumstances we would recommend the Olympus Style Tough-8000 over the D10: 1) If you primarily use another camera but are looking for a complimentary ultra-compact to take with you while kayaking, skiing, beach trips and the like—the Style Tough-8000 the smaller, slighter, more durable and has a greater zoom. 2) If you have children who might be using this camera—the Tough-8000 is not only easier to use (and has a larger screen) but it is unlikely your little ones will be able to harm this rock-of-a-camera even if they tried.
Whichever you choose, bring on the sand, the cold, the water and the knocks—these cool ultra-compact cameras can take it!
THE OLYMPUS STYLE TOUGH-8000:
LEARN MORE & BUY: BLACK / SILVER / BLUE / KIT
Purchase locally in: USA | UK | GERMANY | FRANCE | JAPAN
THE CANON POWERSHOT D10:
Purchase locally in: USA | UK | France | GERMANY | Japan

GET SCREEN PROTECTORS | FOLLOW US ON TWITTER |
Related posts:
The Best Waterproof iPod & iPhone Cases
5 Very Cool Photoblogs
Hazelmail: Send Your Photos As Postcards
The Nikon D80 vs D90 vs D300
Cool Beach Resorts
OLYMPUS STYLE TOUGH-8000 | CANON POWERSHOT D10 | FOLLOW US ON TWITTER