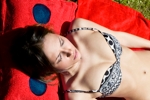 spot cool stuff TECH
The Italian company hi-Fun specializes in adding speakers to items that aren't necessarily improved by their addition. (They also seem expert at added a "hi-" prefix to their product names). The company makes the hi-Sleep, which is a pillow with built-in speakers. There's the hi-Head, a hat with built-in speakers. And the hi-George is a teddy bear that can both hug an iPod and blast tunes out of its feet.
The hi-product that most caught our attention? The hi-Sun—a beach towel with built-in speakers.
---