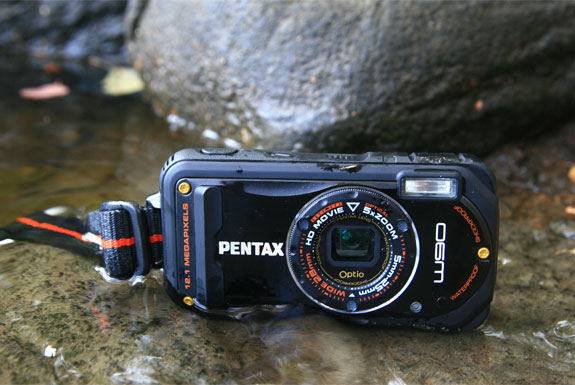 A few months ago we compared the Canon PowerShot D10 to the Olympus Stylus Tough-8000. Since then a new waterproof ultra-compact point-and-shoot has entered the market: the Pentax Optio W90. Spot Cool Stuff's review:

The Pros

In bright sun-lit conditions the W90 usually produces stellar photos—crisp, detailed and with excellent color saturation. That's thanks, in part, to a 9-point contrast detection autofocus system and stellar face detection capability.


The 5x optical zoom is the best-in-class for a waterproof ultra-compact, edging out the 4.6x optical zoom of the Panasonic Lumix DMC-TS2. We would have liked the W90′s wide angle (28mm) to be a little wider but the upper focal length (140 mm) makes for a useful zoom.





The Optio W90′s reinforced polycarbonate plastic body feels durable. The large oversized front screws and rubberized edging look durable. And, indeed, this camera really is durable! It's waterproof to greater depths than competitor models (see chart, below). It's rated as shockproof to 4 feet (1.2 m) but ours has survived falls of about 6 feet.


The macro mode is fantastic. Photos show great detail. What's really cool are three small LED lights around the lens that illuminate subjects when taking macro photos; these lights reduce shadows and make it possible to shoot into dark nooks.





The panorama feature really works! In "digital wide" mode the Optio W90 will combine two photos taken one atop another into one image; in "digital panorama" it will combine two or three shots taken side by side. The photo stitching is automatically done on-camera.
There are non-waterproof cameras with better panorama functionality on the market (eg. the "panorama sweep" on the Sony Cyber-shot DSC-H55) but for a waterproof camera at its price point, the Optio W90 does exceptionally well at stitching together multiple photos. It does takes a little practice lining up the component photos. Below is one we created on our third attempt. It is comprised of three individual photos; even at full resolution it is difficult to see where one photo begins and the other ends:


When the water is clear and sun is plentiful, the Optio W90 takes the best underwater photos of any ultra-compact waterproof camera. Unfortunately, photos taken in murky water show the same peppered noise that other low-light photos taken with the W90 do (see below).





The manual focus feature will appeal to those who get frustrated by the typical point-and-shoot's lack of manual controls. There's also a big green button on the front that will instantly put the W90 in full automated mode. That combo makes the Pentax Optio W90 ideal when being used by two photographers: one adept at manual settings and one not.

The Cons

There's no lens cap or built-in lens protector. Buying a good case—and using it regularly—is required for keeping the lens and back screen from getting scratched. That's especially unfortunate considering no case is included with the camera.


The largest downside of the Optio W90: poor quality low-light photos. Pixel noise is a slight issue at 400 ISO and problematic at speeds above that. See a comparison with the waterproof Canon PowerShot D10 below: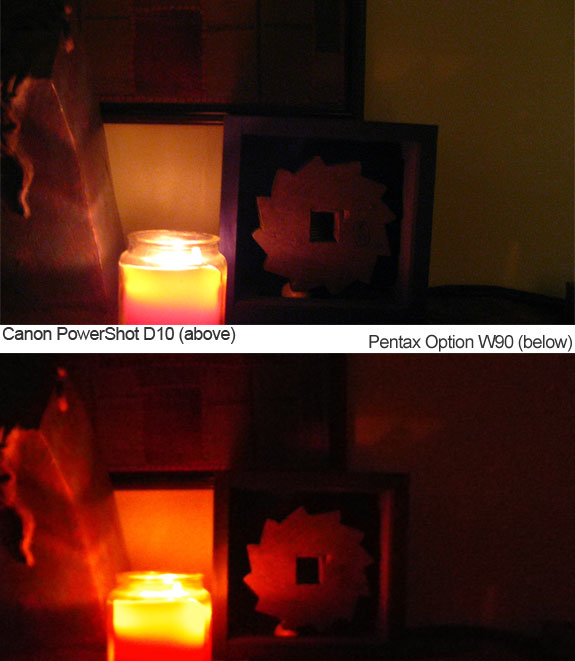 The video quality is mixed. The Optio W90 shoots video at an HD resolution (1280×720) and the on-camera mic is decent. But the picture crispness isn't going to wow anyone either. Consider the W90′s video capabilities as a nice side feature, not a reason to purchase the camera.


Though we appreciate the Pentax Optio W90′s light weight we are less keen on its battery life. The official specs say the W90 can take 205 shots on a recharge but we got around 180~190.


The W90 has no image stabilization and no easy way to manually set the ISO—two features Spot Cool Stuff wished were included.




Compared to the Competition
Here's how the Pentax Optio W90 stacks up against two other popular waterproof compact cameras: the Olympus Stylus Tough-8000 and the Canon PowerShot D10:
BEST: ✔ = a bit better than 2nd place, ✔✔ = somewhat better than 2nd, ✔✔✔ = much better than 2nd
2nd PLACE: ∫ = a bit better than last place, ∫∫ = somewhat better than last, ∫∫∫ = much better than last

Our Verdict
If you are going to own only one camera and want that to be a compact waterproof point-and-shoot then we suggest the Canon PowerShot D10. Why not the Pentax Optio W90? The largest downside for us is the W90′s poor low light shooting capabilities. The Optio W90′s sub-optimal movie quality also tempers our enthusiasm.
HOWEVER . . . if you are looking for a companion to a high quality camera you already own then the Pentax Optio W90 is an excellent choice. When taking a camera into a harsh environment—one that's wet or sandy or especially cold, for instance—that's when you leave your delicate SLR safely packed away and slip a Optio W90 in your pocket.
For a camera at its price point—currently $217 with Amazon's hidden discount—the Pentax Optio W90 has an impressive feature set. Especially useful is the macro and on-camera photo stitching modes. That versatility meshes well with the W90′s ability to take excellent outdoor photographs.
But what's really impressive is the W90′s durability. For scuba adventures such durability has an obvious advantage: The Pentax W90 remains waterproof 160 feet deeper than comparable cameras. Those who aren't diving enthusiasts will appreciate the Optio W90′s superior build quality too. Taking a camera to the beach? There's no worry about sand getting into the Optio W90′s inner workings. Letting a child use your camera? The Optio W90 stands up to drops. Going rock climbing or skiing? The Optio W90 can handle being knocked about.
With such durability you can have a certain confidence in buying a Pentax Optio W90—it'll be working for a long time to come.
published: 28 Oct 2010

LEARN MORE & BUY | JOIN US ON TWITTER / FACEBOOK |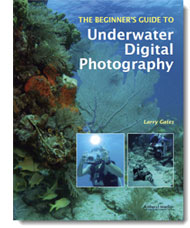 Related posts:
The Best Camera Daypacks
Nikon D80 vs D90 vs D300
Canon EOS Digital SLR Showdown: 40D vs 50D
The Aerobed Pakmat Inflatable Mattress ← example photos
The Waterproof, Dishwasher Safe, Keyboard
Reviews of Waterproof Cases for the iPod and iPhone




LEARN MORE & BUY | SHOP DIGITAL CAMERAS | JOIN US ON TWITTER / FACEBOOK