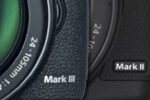 spot cool stuff TECH
For years now, the Canon EOS 5D Mark II has been a favorite mid-range digital SLR among serious photographers. The workhorse of a camera took professional-quality images and offered a huge feature set—and did so for a relatively low price.
Then, two things happened: First, Canon came out with an updated version of the Mark II—the EOS 5D Mark III. Second, Canon reduced the price of the Mark II by $500.
Both the 5D Mark II and 5D Mark III are, inarguably, excellent full-feature SLR cameras. But now that there's a serious 5D choice, which of the two is the better option for you? Spot Cool Stuff takes a look at the advantages of each camera:
---