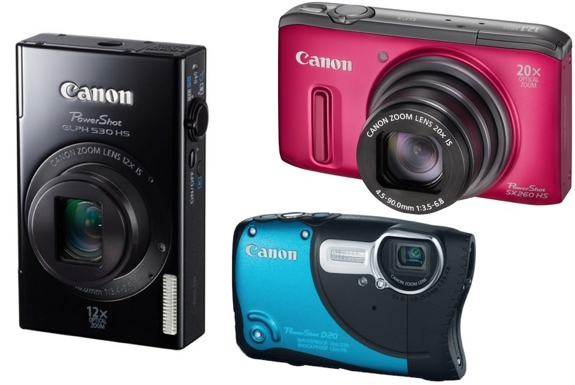 Spot Cool Stuff is a big fan of the Canon PowerShot line of point-and-shoot digital cameras. Some PowerShot models are better and some are worse, but in general they offer features and photo quality far exceeding their low price and small size.
Recently, Canon announced new PowerShot models for 2012. Here's a preview of the three we feel are especially worth considering for purchase:





Canon PowerShot SX260 HS
In the past, on occasion, Canon has come out with an upgraded camera model that was lower quality than the one it replaced. Fortunately, that didn't happen when Canon developed an upgrade to the PowerShot SX230 HS, one of our favorite pocket point-and-shot cameras. It's new successor, the Canon PowerShot SX260 HS, is slightly thinner, sports a superior optical stabilization system and offers a better selection of scene presets in auto mode. But the two major upgrades are:
• 20x optical zoom. That takes the camera from a wide-angle 25mm all the way to a 500mm telephoto. By contrast, the SX230 HS has a 14x zoom.
• Canon's latest Digic 5 image processor. That boosts image quality and the speed of the burst mode (to 10.3 fps), compared to 3.2 fps for the SX230 HS.
The rest of what made what the PowerShot SX230 HS superlative found its way onto the SX260 HS too. That includes GPS image geotagging and capturing full 1080p HD video at 24 fps. The PowerShot SX230 HS also costs $100 less, which probably makes it a better deal for consumers who don't need the extra zoom of the SX260 HS.
PowerShot SX260 HS Specs
Key specs: 12 megapixels, 20x optical zoom
Weight with battery and memory card / battery life: 231 g (8.15 oz) / 230 still images
Special feature: GPS
Color choices: Black, red, green
List Price: US$350
Availability: March 2012
LEARN MORE & BUY via AMAZON / ADORAMA |

Canon PowerShot Elph 530 HS
The PowerShot Elph 520 HS and Elph 320 are slated to be Canon's first wifi-enabled cameras. Canon has made a big deal of the camera's said wifi-ness, but this is not a major selling point for Spot Cool Stuff. To be sure, we appreciate the convenience of transferring photos from a camera via wifi, especially when moving pics to a smartphone or a tablet computer. But virtually any recent digital camera can be wifi-enabled with an Eye-Fi Card.
So what else, besides wifi, is superlative about the 530 HS? Plenty. Including:
• 12x optical zoom—very impressive in a form factor this compact.
• Bright display that's a 3.2-inch LCD touchscreen.
• HD video recording in full 1080p
• Smart processor with Face ID and intelligent image stabilization.
And, like the PowerShot Elph cameras that came before it, the PowerShot Elph 520 HS has a lightweight ultra-compact size and yet takes photos up to the standards of a good low-end SLR.
PowerShot Elph 530 HS Specs
Key specs: 10.1 megapixels, 12 optical zoom
Weight with battery and memory card / battery life: 163 g (5.75 oz) / 190 still images
Special feature: Wifi connectivity
Color choices: Black, white, sliver
List Price: US$350
Availability: April 2012
LEARN MORE & BUY via AMAZON / ADORAMA |

Canon PowerShot D20
The new Canon PowerShot D20 is, technically speaking, butt ugly. At least it is to our eyes. But, looks aside, the D20 joins the equally new Panasonic Lumix TS4 as the highest quality waterproof ultra compact point-and-shoot digital cameras on the market.
Both the PowerShot D20 and the Lumix TS4 are ruggedized, GPS-equipped 12-megapixel cameras that take 1080p HD video and feature special underwater modes. The TS4 takes 3D photos and has the superior video (60 fps versus 24 fps for the D20), longer battery life (310 vs 280 images), wider aperture (f/3.3 vs f/3.9O) and greater number of focal points (23 vs 9). It also comes in a variety of colors.
The advantages of the PowerShot D20? It's about $50 cheaper. It has the superior sensor and processor—those being two of the most important parts of the camera. It has a display that's both larger (3 inches vs 2.7) and of high resolution (461k dots vs 230k dots). And we love the D20′s macro mode that can take photos as close as 1cm.
The clincher? The Canon PowerShot D20 is $50 cheaper than the Lumix TS4. That makes the D20 a better deal—if you can stand how the camera looks.
PowerShot D20 Specs
Key specs: 12.1 megapixels, 5x optical zoom
Weight with battery and memory card / battery life: 197 g (6.95 oz) / 280 still images
Special feature: GPS, altimeter, waterproof down to 10 meters (33 feet)
Color choices: Only the blue-black combo
List Price: US$350
Availability: May 2012
LEARN MORE & BUY via AMAZON / ADORAMA |
published: 1 Mar 2012


Related posts:
The Best Cameras for Travel
A Review of the Waterproof, Durable Pentax Optio W90
The Best Tablet Computers for Students