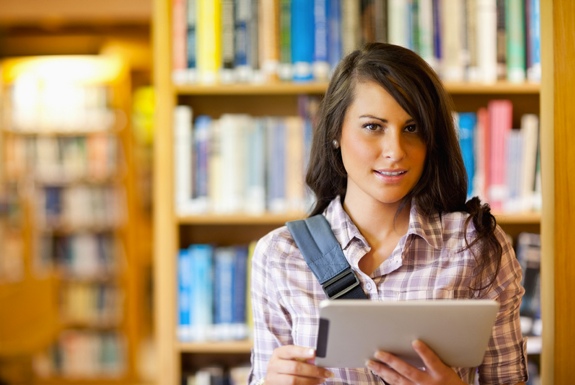 Tablet computers are joining backpacks, bicycles and beer pong tables as essential items for university and college students. Some students in high school (and earlier) are taking tablets to class too.
On a tablet a student can read (and purchase) textbooks, manage a to-do list, keep a calendar of assignments, take notes in class, conduct research, check email, collaborate with other students, use educational apps and, of course, procrastinate with Angry Birds. On many tablets you can write or edit papers too.
As such, a good tablet computer for a student is one with a long battery life, with enough processing power to run high-end apps and with a screen that's especially easy to read. Students tend to type more on their tablet than typical users, so a large, responsive on-screen keyboard can be essential.
There's another consideration when choosing your tablet: The operating system prevalent the institution where the tablet will be used. Some schools are very Apple and Mac oriented. Others are more Chrome- and Google-centric.
With that in mind, here are Spot Cool Stuff's tablet recommendations for students. As always, you can click on the category that most interests you or continue reading on after the jump.





Best Android Tablet & Best For Taking Notes in Class
Price: $500-$550
Display: 10.1-inch, 149 pixels per square inch
Weight: 20.5 ounces (580g)
Storage options: 16, 32GB

Operating System: Android 4.0
Battery life: 9 hours of wifi web surfing
Camera: 5MP rear-facing, 0.9MP front-facing
Ports: microSD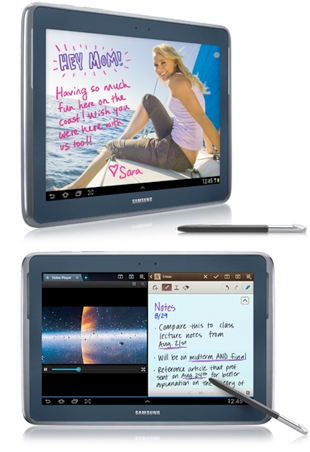 Samsung is bringing back the stylus. But unlike the first tablet-like digital assistants (anyone reading this old enough to remember Handsprings from the 1990s?) the Samsung Galaxy Note 10.1 doesn't require a stylus — Samsung calls it an S Pen — to use it. You can check email, surf the web, update Facebook, et al with your fingers, exactly how you would on an iPad or Android tablet. But the inclusion of the S Pen allows for integrating handwriting with an array of apps.
For example: The S Pen makes the Galaxy Note 10.1 ideal for taking notes. You can easily mix typed text with S Pen drawn diagrams. A split screen mode allows you to surf the web, look at a photo or whatever on one half of the screen while taking notes on the other. Especially great for students is the included Kno textbook reading app — use the S Pen for jotting margin notes, underlining passages or most anything you'd do with a real pen and a physical textbook. Other S Pen-friendly apps that are preloaded on the Galaxy Note 10.1 include Photoshop Touch and Polaris Office (which, among other things, lets you make handwritten notes directly on a PowerPoint document).
The S Pen is cool enough and useful enough to make the Samsung Galaxy Note 10.1 our top choice for the best student tablet computer, though not without reservations. The build quality isn't quite what we'd want for an electric device that's likely to be banging around in a backpack. (We strongly suggest getting a good case.) Worse, the display — usually a strong point for Samsung products — is sub-optimal. The Galaxy Note 10.1 has the same number of pixels as the Galaxy Note smartphone but for a screen that's nearly twice the size! The Note 10.1 is also indistinct in terms of its looks. All of those are reasons to at least consider the Sony S tablet, below.
Pros & Cons

The S Pen stylus and the apps that integrate it, very good battery life, reasonably fast performance, 10.1-inch screen size

Sub-par display resolution and brightness, average build quality, a little expensive, generic looks
Purchase locally in: CHINA | FRANCE | GERMANY | JAPAN | UK | USA

2nd Best Android Tablet for Students
Price: $470-$550
Display: 9.4-inch, 161 pixels per square inch
Weight: 21 ounces (595g)
Storage options: 16, 32GB

Operating System: Android 3 latest (Honeycomb)
Battery life: 8 hours of wifi web surfing
Camera: 5MP rear-facing, 0.3MP front-facing
Ports: Full-size SD card reader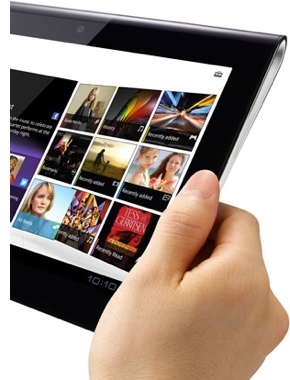 In the first version of this review, the Sony Tablet S was our choice for the best tablet computer for students. Were it not for the S Pen of the Samsung Galaxy Note 10.1 (see above) it still would be.
We are fans of the Sony S's high-resolution display and the fast performance. In addition, Sony's custom tweaks to the operating system makes multitasking easy — we especially like the ubiquitous favorites drop-down panel for quickly accessing content.
The Sony Tablet S also has a cool and distinctive design. That's more than a superficial quality; when everyone else in class has similar looking tablets it's useful to own one that stands out. And there's something else about the design: It makes the Tablet S feel lighter than a flat tablet of identical weight. That's because the S-shape causes the Sony to rest more on the palms.
Add to that a high built quality and a full-size SD card reader and you have a student's ideal Android companion.
Pros & Cons

Distinctive design, excellent tweaks to the Android OS, fast Dual Core Tegra 2 processor, doubles as a universal remote

A little expensive, screen dim for reading in direct sunlight, proprietary charging cable is expensive to replace if lost
Purchase locally in: CANADA | CHINA | FRANCE | GERMANY | JAPAN | UK | USA

Best Tablet Computer for Current Mac & iPhone Users
Price: $500-$830
Display: 9.7 inches, 264 pixels per square inch
Weight: 23.4 ounces (662 g)
Storage options: 16, 32 & 64GB

Operating System: iOS
Battery life: 10 hours of wifi web surfing
Camera: 5MP rear-facing, 0.7MP front-facing
Ports: Proprietary Apple iPod dock only


What makes the The Apple iPad our choice for the best tablet computer for travelers also makes it a top choice for students: The huge selection of apps.
No other tablet has as many apps. Which means no other tablet is as versatile. Furthermore, we've noticed that apps for the iPad seem to be a bit better designed than the equivalent Android app.
For students who already have an Apple MacBook Pro and/or an iPhone, adding an iPad tablet to the mix makes the most sense. An iPad integrates well with other Apple devices. Photos, music, videos, email, contacts, notes, calendar items and the like will automatically sync between your iDevices via Apple's iCloud.
In addition, the iPad is beautifully built and boasts superior battery life. It records video in full 1080p. And the high resolution retina screen is absolutely gorgeous. The major downside is the relative expense of buying one.
If you already own an iPad, see our advice on whether to upgrade a 3rd generation iPad.
Pros & Cons

Best selection of apps (by far), beautiful operating system, high build quality, best battery life of any tablet, syncing with other Apple products, option for massive 64GB of storage

Expensive, average processor speed and display pixel density, only 512MB of RAM, poor camera quality (especially the rear-facing one)
Purchase locally in: CANADA | CHINA | FRANCE | GERMANY | ITALY | JAPAN | UK | USA

Best Tablet for a Laptop Replacement
Price: $394
Display: 10.1-inch, 150 pixels/square inch
Weight: 24 ounces (680 grams)
Storage options: 16 & 32 GB

Operating System: Android 3 latest (Honeycomb)
Battery life: 8.5/10.5 hours with/without keyboard dock
Camera: 5MP rear-facing, 1.2MP front-facing
Ports: Mini-HDMI, 2 USB


Is it worth while having both a laptop and a tablet computer? Spot Cool Stuff thinks it is. We routinely go places with both and sometimes use them side-by-side. But if you already have a desktop and are looking for a tablet that can function a bit like a laptop then the tablet you are looking for is the ASUS Eee Pad Transformer.
Though it definitely looks and acts like a tablet, the Transformer can become laptop-like when paired with it's optional keyboard. It also comes with the Polaris Office Suite, a mobile version of MS Office. (We wouldn't want to write an entire dissertation using the Polaris Office Suite, but it is sufficient for shorter papers and making edits.) Add to that a speedy Nvidia Tegra 2 processor and two USB ports for your peripherals and the Transformer makes it a whole lot easier go without a laptop.
Other benefits of the Eee Pad Transformer: a screen with a wide 178° viewing angle, long battery life and elegant design. It's an excellent value for the Amazon discount price of US$394. Though you'll pay a bit extra when carrying it around—the Transformer weighs about 20% more than the Sony Tablet S (above).
Pros & Cons

Keyboard dock (that also extends battery life), excellent value, speedy processor, wide display viewing angle

About 20% heavier and 50% thicker than light-weight competitors, touchscreen becomes slightly less responsive when docked
Purchase locally in: CANADA | CHINA | FRANCE | GERMANY | ITALY | JAPAN | UK | USA

Best 7-Inch Tablet for Students
Price: $500-$600
Display: 7.1-inch, 170 pixels per square inch
Weight: 12.1 ounces (345g)
Storage options: 16, 32GB

Operating System: Android 3 latest (Honeycomb)
Battery life: 5 hours of wifi web surfing
Camera: 3MP rear-facing, 2MP front-facing
Ports: Dock connector only


We love 7-inch tablets. A screen that size (the number of inches is measured diagonally across the screen) lets you do nearly everything you can on a "full-sized" (eg. 10~ish-inch screen) tablet but in a device that's smaller, lighter and easily holdable for long periods of time with one hand.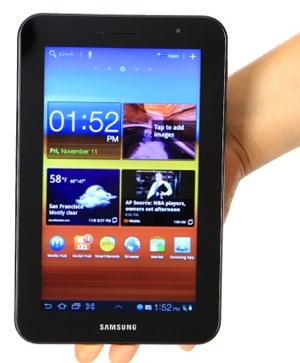 Of all the 7-inch tablets currently on the market, the Samsung Galaxy 7 Plus is head-and-shoulders above the alternatives. The 7 Plus sports a powerful processor. And it runs the excellent Android Honeycomb operating system using proprietary "TouchWiz" additions that make multitasking particularly easy. One TouchWiz feature students might find especially useful: a floating "Memo Pen" area for taking and organizing hand written notes.
The Samsung Galaxy Tab 7 Plus has many of the features that make the Galaxy Tab 10.1 superlative, including an attractive physical design and gorgeous screen. Sadly, like the 10.1 version, the 7 Plus is a bit on the expensive side.
If the price tag of the 7 Plus is a bit too high for you (the T-Mobile Samsung Galaxy 7″ retails at $300), consider the 7-inch Acer Iconia Tab A100 as a strong alternative. If you are looking for a slightly larger tablet, the Galaxy Tab is also available with an 8.9-inch screen.
Pros & Cons

TouchWiz version of Android Honeycomb, fast 1.2GHz dual-core Exynos processor, great looks, bright screen

Relatively expensive (though good value for what you get), wifi reception potentially a bit weak, average display viewing angle
Purchase locally in: CHINA | FRANCE | GERMANY | ITALY | JAPAN | UK | USA

Best Tablet For Reading Texbooks
Price: $199
Display: 7-inch, 169 pixels per square inch
Weight: 14.6 ounces (413 grams)
Storage options: 8GB

Operating System: Android 2.3
Battery life: 7 hours of wifi web surfing
Camera: None
Ports: USB


Not surprisingly, the two best tablets for reading textbooks are the ones that were originally designed to be primarily eBook readers: the Nook Tablet from Barnes & Noble and the Kindle Fire from Amazon.
Both Amazon and Barnes & Noble sell electronic versions of textbooks. Both also make apps that allow you to read their store's eBooks on an iPad or Android device. But the Kindle and Nook tablets have their eBook readers better integrated into their operating systems and offer more features such as bookmarking, adding notes and quickly looking up word definitions.
As for which is better, the Nook Tablet or the Kindle Fire, Spot Cool Stuff will be publishing a post dedicated to that very question. Suffice it to say that both are very good gadgets and excellent values. We'd happily recommend either. The Nook has the more powerful processor, 8GB more storage and the slightly crisper screen. The Fire has the much faster web browser and is $50 cheaper. For students, the two features that might most give the Fire an advantage over the Nook:
1) Amazon has a larger selection of textbooks than does Barnes & Noble.
2) The free Amazon Cloud drive makes it easy to share electronic versions of textbooks (as well as term papers and other files) between the Fire tablet and a computer.
In addition to the Nook and Kindle Fire, the other competitor in the sub-$200 7-inch tablet market is the Google Nexus 7. See our review of the Nexus 7 vs Kindle Fire for a comparison of the two. In general, the Nexus 7 is a superior piece of hardware but Amazon's eBook and streaming music and video store offers more (and cheaper) content.
Pros & Cons

Superb value, fastest tablet web browser, direct access to Amazon's huge eBook, movie and music collection, scratch resistant screen, free cloud sources, automatic syncing with other Kindle devices

No GPS, no 3G (or 4G, or any number of Gs), no camera, no Bluetooth, limited to 8GB of on-device storage, no physical volume controls
Purchase locally in: CHINA | FRANCE | GERMANY | ITALY | JAPAN | UK | USA
updated: 30 Aug 2012

Related posts:
Reviews of the Best Cameras For Travel / Best Socks For Travel
How To Optimally Configure a New Apple MacBook Pro
Kodak Pulse: The Picture Frame You Can Update From Anywhere
Reviews of the Best Tablet Computers for Travel
Reviews of the Best Tablet Computers for Kids


Are you a student using a tablet at school? Share your thoughts: