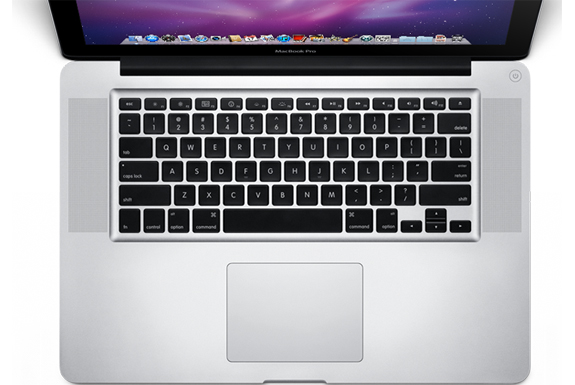 The 2011 updated version of the Apple MacBook Pro is out. The majority of the improvements over the previous MacBook Pro incarnation are performance related. The most significant of those: new quad-core Intel processors that increase speed nearly 100%. There's also a new graphics processor (three times faster than the old MacBooks), an HD camera for video chats, a somewhat more powerful battery and a "Thunderbolt" port that can connect to HD displays and transfer data at a blazing 10GB per second.
Though every new MacBook Pro has those improvements not every model offers the same configuration. You, the consumer, have choices to make. 4GB of memory or 8GB? An HDD or flash drive? The speed of the Intel i5 processor vs the i7? And so on.
Here's Spot Cool Stuff's take on how to most cost-efficiently configure the latest generation Apple MacBook Pro.
(Note that the prices we list are from MacMall, which sells all Macs for a bit less than does the Apple store. If you are in the U.S.A., MacMall will also likely save you money on tax; the online Apple store will charge tax if you live in a state with a brick-and-mortar Apple store).

Display Size Options
13-Inch: total cost US$1,179 or $1,474
15-inch: total cost $1,769 or $2,157 (plus $100 for an HD screen)
17-inch: total cost $2,447
The new MacBook Pro is available in the same screen sizes as the previous incarnation: 13-, 15- and 17-inches. Each has the same battery life (around 7 hours). Generally, the larger the screen, the more powerful the internal electronics. Of course, the larger the screen, the more bulk you lug around—the models weigh 4.5 pounds (2.04 kilos), 5.6 lbs (2.54 kg) and 6.6 lbs (2.99 kg) respectively. The 15- and 17-inch screens have a matte option (see below); the 13-inch display only comes in glossy.
Our suggestion: If a particular display size seems obviously best for you—eg. the 13-inch if you are a student on the budget or the 17-inch if you are a graphic designer coveting screen size—choose that. But if you are at all unsure go with the 15-inch. We've met lots of several people who've regretted choosing the largest and smallest screens but not one who isn't at least mildly happy with the 15-inch. That said, the 17-inch model is the best value dollar-for-dollar.

Processor Options for the 13-Inch
2.3GHz dual-core Intel Core i5 + 320GB drive: standard
2.7GHz dual-core Intel Core i7 + 500GB drive: + $300
At first glance it seems like a more advanced chip plus a significantly faster clock speed would be worth the extra money. It isn't. Speed tests show that the the 2.7GHz i7 is only around 9% faster than the 2.3GHz i5. Yes, you get a larger standard hard drive with the 2.7GHz but you can upgrade a 2.3GHz model to a 500GB hard drive for an extra $50 (or not—see below).
Our suggestion: Save the extra $300 and choose the i5 model.

Processor Options for the 15-Inch
2.0GHz quad-core Intel Core i7 + 500GB drive: standard
2.2GHz quad-core Intel Core i7 + 750GB drive: + $400
As with the 13-inch, Apple's two 15-inch MacBook Pro models process data at surprisingly similar speeds; the 2.2GHz model is only 8% faster than the 2.0GHz. However, unlike the choice between the 13-inch models, the 15-inch machines have different graphics processors. The 2.2Ghz option comes with a AMD Radeon HD 6750M chip with 1GB GDDR5. The other has a less powerful AMD Radeon HD 6490M with 256MB GDDR5. You won't notice the difference between them when word processing or web surfing but you will when, say, editing video.
Our suggestion: The 2.2GHz model if you do a lot of graphic design and/or graphic-intensive game playing, the 2.0GHz model otherwise.




Built-In Memory Options
4GB: standard
8GB: + $225
On virtually all computers, increasing the RAM is one of the most cost effective means of increasing performance. The benefits of that extra memory is especially pronounced when doing heavy multitasking but is noticeable even when only a web browser and email program are simultaneously running.
Our suggestion: 8GB, definitely.

Hard Drive Options
500GB Serial ATA Drive @ 5400 rpm: standard
500GB Serial ATA Drive @ 7200 rpm: + $125
128GB Solid State Drive: + $200
256GB Solid State Drive: + $600
512GB Solid State Drive: + $1,200
Listed above are the hard drive options for the latest 15-inch 2.0GHz Apple MacBook Pro. Prices vary a bit on other models but we'd argue that the specifics don't matter—all the pre-configured options are overpriced.
If you seriously consider only one piece of advice in this article consider this: Purchase a third party hard drive!
Ideally Apple would sell MacBooks without a hard drive. That not being the case, you are stuck paying for something you don't really want and replacing it with something you do. Purchasing a third party drive involves installing it yourself (or having your local computer store do it for you) and, if you are so inclined, selling the stock Apple drive on eBay. All that's a bit of a hassle. But completely worth it. You'll get much more for the money.
So what hard drive should you get?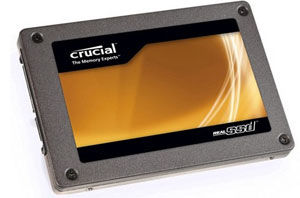 If you'd like an HDD (eg. old-fashion" drive with a spinning disc) you can find a whole selection of inexpensive options. Amazon sells a high quality 1 terabyte (eg. 1000GB) drive for only $115! (Apple doesn't even offer a 1TB option).
SSD, or flash, drives are more durable, more power-efficient and significantly faster compared to HDD drives. Unfortunately, they are also significantly more expensive. Currently choosing a third party SSD drive won't save you much money compared to Apple's options, but you will save a bit and end up with a better drive. Spot Cool Stuff is partial to the SSD drives made by Crucial; their website also has information on installing their drives.
For an optimum ratio of price to performance, Spot Cool Stuff doesn't suggest either an HDD or SSD drive. Instead, we strongly prefer a hybrid of the two. Seagate has the best hybrid technology on the market. Their Momentus XL drive runs your commonly used programs at speeds approaching those offered by flash drives but costs a fraction of the price—a top-end 500GB hybrid is only $140 and some are as cheap as $65! Read our full review of the Seagate Momentus XL hybrid drive for more info.
Our suggestion: Choose the cheapest stock drive you can and replace it with a Seagate Momentus XL hybrid.

Display Type Options
13- and 15-inch Glossy Widescreen: standard
17-inch Hi-Res Glossy Widescreen: standard
15-Inch Hi-Res Glossy Widescreen: + $130
15-Inch Hi-Res Antiglare Widescreen: + $175
17-Inch Hi-Res Antiglare Widescreen: + $95
It's easy sorting through the display options for the 13-inch MacBook Pro: There aren't any.
On the 15-inch, the hi-res display is easily superior to the standard normal-res one and is well worth the surcharge. Unlike the hard drive or memory options there's no possibility of upgrading to a hi-res screen after purchasing a 15-inch MacBook Pro without it.
As for the glossy versus matte display, it is somewhat a personal preference. The glossy display is more vibrant (and inexpensive) but it can produce so much glare as to render a MacBook nearly useless when operated outside on a sunny day. Glare can also be a factor when there's a bright light source behind you. If you do a lot of print design a matte display is a must—the glossy display saturates all colors making it difficult to predict how they'll appear on a printed page.
Our suggestion: The hi-res antiglare display.

Some Software Options
iWork: + $67
Aperture 3: + $160
Boot Camp and Microsoft Windows 7 Home Premium: + $146
Final Cut Express 4: + $175
Software can be purchased at anytime, of course, though occasionally you'll save a bit of money bundling the cost in with a new computer. The excellent Aperture 3 photo editing software (purchased without computer) costs $200 at the Apple online store and $180 at Amazon.com. At MacMall, it's $160 whether you purchase it with a computer or not.
Our suggestion: Purchasing software with a MacBook Pro might be convenient and save a few dollars, but not at all necessary.
LEARN MORE & BUY | JOIN US ON TWITTER / FACEBOOK |
published: 3 Mar 2011





Related posts:
Digital Camera Reviews
More SCS Laptop Reviews
MagicJack vs. Vonage vs. Skype
AT&T vs Verizon iPhone 4

Agree or disagree with our suggestions? Share your thoughts in the comments section.