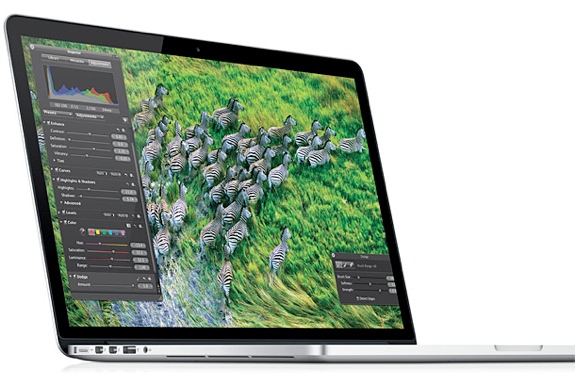 Previously, Spot Cool Stuff wrote about how to best configure an Apple Macbook Pro laptop. But, with the new product launch from Apple, that advice pertains to what is now the "old" Macbook (still available on eBay but otherwise not sold in stores).
The latest MacBook Pro now features a retina display; comprised of an incredible 5.1 million (!) pixels, it's the world's highest resolution screen of any consumer laptop. The new MacBook Pro is also lighter, thinner and significantly faster and more power than its predecessor.
So what are the best configuration options to choose when purchasing a new MacBook Pro with retina display?




The new MacBook Pro is offered in very few configurations if you want one with retina display. Gone is the choice of screen size—there is no more 13- and 17-inch MacBook Pro. Gone is the choice of glossy vs matte display—all retina displays are what we'd describe as semi-glossy. Gone is the choice of a larger ATA versus smaller solid state drive—all Pro drives are now solid state flash memory types. That lack of choice might be good news for the indecisive is bad news for consumers who appreciate a high level of customization.
And here's what's bad news for everyone—the new retina display MacBook Pro is the least upgradeable laptop on the market today. The battery is glued into the computer (and doesn't dislodge easily). The new flash drive is proprietary and can not be replaced without Herculean effort. Most egregious of all, the RAM memory is literally soldered onto the logic board. There is no RAM expansion slot and the RAM can not be upgraded!
To be clear, Spot Cool Stuff loves the new MacBook Pro with retina display. The quad-core Intel i7 processor and electronic architecture is optimized for flash memory, making the performance blazing fast. Compared to the previous 15-inch MacBook, it is appreciably thinner, a pound lighter and offers a rather amazing 7 hours of battery life. And that retina display—really, after you spend some time with it you'll have a hard time looking at any computer screen without retina technology.
But the lack of upgradability is rather frustrating, to say the least. It means that it is critical to purchase the computer you want from the beginning. In general, customers should err on the side of getting higher-end options.
Our review of your best configuration choices:

Retina MacBook Pro RAM Memory Options
8GB: standard
16GB: US$200 extra
Again, you can NOT upgrade the RAM in the new (eg. June 2012 edition) of the MacBook Pro.
Our suggestion: Absolutely, definitely spring for the 16GB option. You'll notice a difference in the computer performance, especially if you do a lot of multitasking. Software in the future is likely to be even more RAM memory hungry than it is today.

Retina MacBook Pro Storage Drive Options
256GB Flash Drive (available in the 2.3GHz MacBook only)
512GB, 768GB Flash Drive (available in 2.6GHz and 2.7GHz configurations)
In the long run, the majority of MacBook Pro consumers will want a drive larger than 256GB. Maybe not at first, but this is a laptop is one you'll want to last you for several years. Unfortunately, the 768GB drive is a whopping $500 more than the 512GB one, making the largest drive unaffordable to many.
Our suggestion: Get the 512GB drive, unless you do a lot of videography or plan to keep a huge number of photos and/or music files on your computer, in which case consider stretching for the 768GB drive if you can fit it within your budget.

Retina MacBook Pro Processor Speed Options
2.3GHz, 2.6GHz or 2.7GHz quad-core Intel i7
The key point here: The 2.3GHz model is only available with a 256GB flash drive. So if you'd like more storage (as is our suggestion, see above) you'll have to spring for at least the 2.6GHz model.
Upgrading to a 2.7GHz processor from a 2.6GHz one costs $250. For that, you'll get about a 4% jump in clock speed—not a significant difference for your average MacBook Pro user.
Our suggestion: Unless you do a lot of video editing, you'll be happy with the performance of the 2.6GHz processor.

Extras & Purchasing Advice
The MacBook Pro with retina display does not come with a built-in CD drive. Like most people, Spot Cool Stuff rarely uses our CD drive. But we do use it just enough to make the $79 purchase of the USB SuperDrive worthwhile. We also suggest the Apple Thunderbolt to Gigabit Ethernet Adapter for $29. That said, both items are available for purchase separately at the same price as they're offered bundled in with your new MacBook Pro purchase. So your decision on either can wait until later.
Note that, for reasons surpassing our understanding, the MacBook Pros with retina display sold by Amazon.com are NOT available with 16GB of RAM. (You need to go through the fine print to see they are are 8GB). That makes MacMall the only authorized reseller to offer the retina-ized MacBook with 16GB RAM at a discount, albeit a small one. Between that and the potential sales tax benefits, you'll save a few bucks getting your MacBook Pro there as opposed to through the Apple store.
published: 26 July 2011

LEARN MORE & BUY | JOIN US ON TWITTER / FACEBOOK |
Related posts:
Acer vs Samsung Chromebook Comparison
Apple iCar Concept Designs
Should You Upgrade to the 3rd Generation Apple iPad?