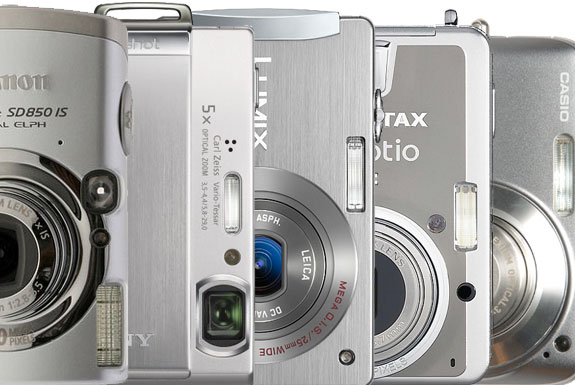 The laws of physics are unkind to ultra-compact cameras. The fact is: All else being equal, the larger the lens the better the photo.
Shopping for an ultra-compact point-and-shoot camera requires some special care. So Spot Cool Stuff tried out all the leading models and found five with superlative qualities. Which is the best overall? Read on to find out . . .
Canon PowerShot SD850 IS (IXUS 950 IS)
| | | | | |
| --- | --- | --- | --- | --- |
| Photo Quality: Outstanding | | Pros: Image stabilization, ability to shoot in low light without a flash | | Cons: Price, heavy (for an ultra-compact) |
The Canon SD850 takes the best photos of any ultra-compact currently on the market. It also has the best image stabilization.
So, there it is. We take most of our photos with a large SLR but after testing out the various ultra-compact models we'll also be regularly using the SD850 (to have when carrying a large clunky camera isn't practical).  In our testing we were often amazed how this little Canon is sometimes matches the quality of our much larger and more expensive SLR camera. The SD850′s photo quality difference is marginally better than other point-and-shoots in optimal conditions. Where it really shines is in low-light conditions — when other ultra-compacts need a flash the SD850 often does not. We manage nearly noise-free photos all the way through 800 ISO.
Given the SD850′s photo superiority why would you choose one of the other cameras on this list? It is the largest and heaviest camera of this group. Also, each of the four cameras below have advantages of their own. To learn about those continue on, Dear Reader . . .
BUY |  
CANON POWERSHOT SD850 IS (IXUS 950 IS)
Weight with battery: 6.9 oz (195 g)
Zoom: 4x optical, 4x digital, 38-114mm (in 35mm equivalent)
Megapixels: 8.0, 3264 x 2448 max resolution
ISO: 80 to 1600
Video: 30 fps at 640 x 480, AVI format
Battery life: approx 230 still images
Casio Exilim EX-Z1080
| | | | | |
| --- | --- | --- | --- | --- |
| Photo Quality: Good | | Pros: Ease of use, long battery life, eBay and YouTube modes, stylish color options | | Cons: Less than optimal photo quality, only 3x optical zoom |


The photo quality of Casio's Exilim ultra-compact is good, though a notch below all the other cameras in this review (except for the Sony). In exchange for giving up that bit of photo quality you'll get a camera that's significantly smaller than both the Canon and the Panasonic.
The Exilim also comes with one advantage not matched by the others: It is the easiest to use camera of any in this group. It has a very friendly user interface not cluttered by a lot of options you probably will never use. It also has a "Program Mode" that does an outstanding job at automatically choosing the right light settings. Especially cool are the eBay and YouTube modes that takes photos and videos at the perfect resolution for upload to those two websites.
The Casio has the best battery life of the cameras in this group. And there's another advantage too, albeit one we are a little hesitant to mention: It comes in variety of colors. The fact is that for some people a camera is a fashion accessory. If you are one of those, or if you are shopping for your first digital camera and/or you are not technically adept this Casio is a great choice.
BUY |  
.

CASIO EXILIM EX-Z1080
Weight (with battery): 5.8 oz (165 g)
Megapixels: 10.1, 3648 x 2432 max resolution
Zoom: 3x optical, 4x digital, 38 – 114 (35mm equivalent)
ISO: 64 to 800 (auto), plus 1600 and 3200
Video: 30 fps at 640 x 480, MPEG format
Battery Life: approx. 340 still images
Panasonic Lumix DMC-FX500
| | | | | |
| --- | --- | --- | --- | --- |
| Photo Quality: Very good | | Pros: Wide angle lens, 5x zoom, incredible video | | Cons: Photo quality, though very good, isn't superlative |


Panasonic's Lumix FX500's photo quality is very good. A half-step behind the Canon and Pentax but, still, very good. So why would you choose the FX500 over those models? Two reasons:
First, the FX500 takes the best video of this group. By far. It takes video at high definition, at a quality that rivals some much more expensive camcorders. This is not a minor advantage even if you are selecting a camera mostly for still photography—it happens often that people never expected to use their ultra-compact for video purposes until after they buy it.
Second, the FX500 is the only ultra-compact with a wide angle (as wide as 25mm). We make extensive use of a wide angle lens on our SLR—not only for shooting landscapes but also close-up shots of people and animals—and often wish for the same functionality in my point-and-shoot. Combine the FX500 wide angle with a 5x optical zoom and you have the most versatile ultra-compact available.
BUY |  
.

PANASONIC LUMIX DMC-FX500
Weight with battery: 6.2 oz (175 g)
Megapixels: 10.1, 3648 x 2736 max resolution
Zoom: 5x optical, 4x digital, 25 – 125 mm (35mm equivalent)
ISO: 100 to 1600 (auto), plus 3200 and 6400
Video: 30 fps at sizes up to 1280 x 720 (HD quality), QuickTime and JPEG formats
Battery Life: approx 280 still images

Pentax Optio S10
| | | | | |
| --- | --- | --- | --- | --- |
| Photo Quality: Extremely good | | Pros: Small and light, great photos and video | | Cons: Poor battery life, only 3x optical zoom |


The Pentax Optio S10 takes the second best photos of this group. It also takes quite good video. In fact, the image quality offered by the S10 is comparable to the SD850 (above) in sunny conditions. This is a huge compliment to the folks at Pentax who made great strides in improving upon the S10′s rather dismal predecessor, the Optio S7.
While the S10 might be a hair behind the SD850 in photo quality department there's one feature for which the S10 is far superior: size. The S10 is the smallest and lightest of the group. It isn't much wider and taller than a credit card. That a camera this small can take photos this good is rather amazing. What's doubly amazing is that the S10 is the cheapest camera of this group.
Some disadvantages of the S10: The battery life is the worst of this group. It only has a 3x optical zoom. It takes a little too long to turn on, and to reset between photos, for our taste. And it has a touch screen, which some people prefer but which makes me a little crazy. Still, if you are looking for the best ultra-ultra compact camera and a very reasonable price the S10 is your best choice.
BUY |  
.

PENTAX OPTIO S10
Weight with battery: 4.1 oz (116 g)
Megapixels: 10.0, 3648 x 2736 max resolution
Zoom: 3x optical, 5.4x digital, 38 – 114mm (35mm equivalent)
ISO: 64 to 800 (auto), plus 1600 and 3200
Video: 30 fps at 640×480 pixels, any length, DivX format
Battery Life: 150 still images
Sony DSC-T300
| | | | | |
| --- | --- | --- | --- | --- |
| Photo Quality: Average | | Pros: Large screen, ease-of-use for photographers with poor eyesight | | Cons: Less-than-good photo quality, special Sony memory stick required to store photos. |


Sorry, Sony, your DSC-T300 doesn't take great photos. The results you'll get from this Sony are OK, but the worst of any camera on this list by a considerable margin.
This Sony's photo quality is such that, if we had written this review a few months ago, the T300 would not have earned a spot on this list.
However, it happened that we received an email asking for advice on buying an ultra-compact for an elderly man. He had never owned a digital camera and his eyes have not aged well. Our initial thought was to get him a Casio Exilim (above) because of its superlative ease-of-use. In the end, though, we recomended this Sony. The T300 has the largest screen of the five cameras on this list. In fact, the T300′s 3.5 inch screen is larger than most digital cameras on the market. The display is very crisp and, because the menu controls on the Sony are touchscreen, there are no buttons to work out. There's not even an "on" button to find — the Sony powers on and off using a slider in front of the camera. Which means, on its most basic setting, the T300 can be operated simply by slider down the front cover and pushing the top button each time you want to take a picture.
We are happy to report that the person we recommended this camera for is very pleased with it. Those in a similar position to him are likely to be pleased also.
BUY |  
.

SONY DSC-T300
Weight with battery: 6.2oz (175 g)
Megapixels: 10.1, 3648 x 2736 max resolution
Zoom: 5x optical zoom, 2x digital, 33mm to 165mm (35mm equivalent)
ISO: 100 to 3200
Video: 30 fps at 640 x 480, MPG format
Battery life: approx 260 still images
And The Winner Is . . .
Each of the five cameras reviewed in this post could be best for you depending on your particular circumstances and priorities:
If photo quality is your top concern, especially in low light situations, go with the Canon SD850.
If long battery life and stylish color choices are paramount, the Casio Exilim EX-Z1080 is for you.
If you want the best ratio of small size to photo quality, you can not go wrong with the Pentax Optio S10.
If you have limited eye-sight and are looking for optimal ease-of-use, the Sony DSC-T300 wins out.
That said, for most people reading this review we would suggestion the Panasonic Lumix. It doesn't quite match up to the SD850′s photo taking ability, but unless you are seriously into photography it is doubtful you'd notice the difference. It isn't the smallest or lightest, but it is small and light enough to keep in your purse or pants pocket (and that's the whole point of an ultra-compact, no?). The Lumix is the one ultra-compact that has no serious downside. And with its wide angle and 5x zoom, it is arguably the most fun-to-use of any camera reviewed in this post. Add to that this camera's superb video taking capabilities and the Panasonic Lumix is our declared ultra-compact winner.
Oct 2008