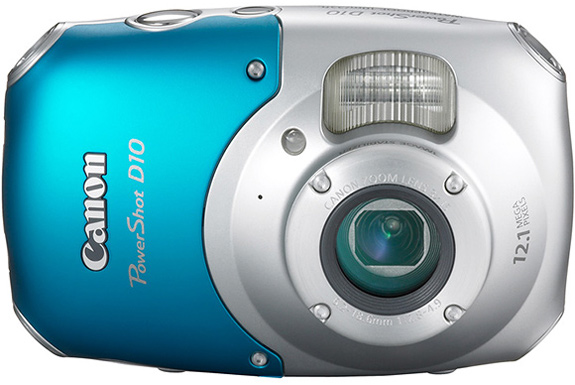 If you plan to go skydiving in a cold-weather location from a dusty airplane into a body of water Canon makes a perfect ultra compact Canon camera to bring along with you: the PowerShot D10.




The D10 is waterproof to a depth of 10 meters (32 feet). It is coldproof, able to operate at temperatures as low as -10 C (14 F). It is shockproof, built to survive a fall onto a rock-hard surface from a height of up to 1.22 meters (4 feet). It is dustproof. It is sandproof. And, oh yeah, the Canon D10 also takes photographs.
Really good photographs.
Into the PowerShot D10′s compact, durable body Canon has stuffed the superb technology that the PowerShot line is known for. The D10 takes photos as large as 12 megapixels, its DIGIC 4 processor operates at an ISO up to 3200. This camera also features facial recognition and Canon's FaceSelf-Timer that will wait until the photographer enters the frame before shooting.
Perhaps most importantly, the PowerShot D10 includes Canon's excellent image stabilization. Because when you are taking photos amongst a lot of water, sand, dust, cold and falling down it can be hard keeping your camera steady.
The D10 is one of our favorite waterproof digital camera. Click here to read our comparison of the Canon PowerShot D10 vs the Olympus Style Tough-800.
Order locally in: USA | UK | France | GERMANY | Japan
Related posts & pages:
The Best Waterproof Ultra Compact Digital Camera Showdown
The Best Waterproof iPod & iPhone Cases
Best Ultra-Compact Digital Cameras
Cool Digital Camera News & Reviews
Megapixel To Print Size Ratio
Why The Olympus Evolt E420 Should Be Your First Digital SLR
Best Backpacks For Photographers





LEARN MORE & BUY | FOLLOW US ON TWITTER